You know how sometimes you'll try on something when you're shopping and go back and forth about whether you should buy it and then decide not to buy it but then a few days later you wish you had bought it?
That's pretty much how I feel about these shoes.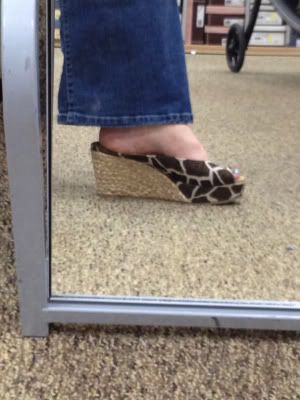 Aren't they darlin'? I had two concerns, though: 1) since they don't have straps, I worried about keeping them on my feet and 2) I thought the animal print might be a little limiting.
So I didn't buy them. But now?
I MISSSSSSSSS THEM. And my Steinmarts doesn't have my size anymore. And I'm still not sure that I'd wear them very much, but I MISSSSSSSS THEM.
And speaking of missing them.
(How's that for an overly obvious transition?)
(AT YOUR SERVICE, I AM.)
I'm spending some time all by myself this week while I try to get some writing done, and the fact of the matter is that I miss my people. They are doing great, of course, and being all sorts of encouraging and checking in to make sure that things are going well and texting to ask if I'm making progress and etc., but I am not used to this much quiet. However comma I seem to need quiet in order to concentrate on the writing stuff (this whole process has taught me that I don't do so great with trying to work in short bursts, and also I'm not a very strong multi-tasker), so I'm mighty grateful for family members who are willing to share their temporarily empty homes so that I can hunker down and be productive. It's a luxury for me to be able to work on the book during the week – it's mostly been a weekends-only thing the last couple of months – and I am trying to make the most of it.
I'm not completely alone, though. Because I brought this little stinker with me.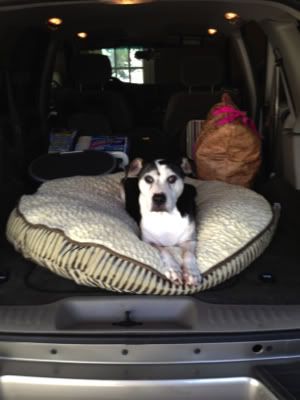 Oh, I have talked and talked to her. And oh, she has looked at me like I'm insane. We share such a special bond.
Since I knew that I would be dining solo for a few days, I went to the grocery store yesterday afternoon. My goal was to not leave this house AT ALL once I got here – to sequester myself until I've written a certain amount (yes. I believe I did in fact set a goal. THIS IS UNPRECEDENTED.) – so I tried to take into account that I was going to need food for several days' worth of breakfast, lunch, and dinner. Or, as we say in the South: breakfast, dinner, and supper.
By the way, I should probably tell you (or maybe warn you) that hearing the word "dinner" for "lunch" conjures up all sorts of wonderful memories for me. It practically screams fresh corn, fried okra, fresh tomatoes, fresh peas, and cornbread sticks that Mama made in one of those cast iron cornbread molds.
And now I'm going to have to stop it with the cornbread talk or I'll end up winding my way down some long rabbit trail and telling you about the way Mama's kitchen used to smell when she'd can tomatoes and squash pickle.
Because the next thing you know it would be Thursday and you'd be saying, "Why are you still talking about bread and butter pickles?" And then I would weep because for one thing I'd be tired of writing about all the varieties of homemade pickles, and for another thing I would pretty much give up my left arm for just one more jar of Mama's homemade sweet pickles.
Which reminds me. Do you know what I need to learn to do?
Pickle things.
Maybe that can be my goal in 2018 when I finally finish this book.
Now. I'm glad that's settled.
ANYWAY, I can't remember the last time that I grocery shopped just for me, but yesterday's shopping trip reminded me of when I was single and used to go to the Jitney Jungle on Highway 51 in Ridgeland, Mississippi. Back then I bought lots of saltines and American cheese slices and bacon and Diet Coke. Yesterday I bought lots of multigrain crackers and cheese and bacon and tea. So I think the lesson is that cheese, crackers, and bacon have been constants in my life for the better part of 15 years.
(I'm not sure if that depresses the fire out of me or floods me with happy nostalgia.)
(But I'll let you know just as soon as I figure it out.)
So if you need me, I'll be, you know, right here. Typing and whatnot. Trying to justify eating cheese and crackers for breakfast. Drinking way too much coffee. Talking to the dog. And hopefully making some book-related progress.
Oh, and thinking about those shoes.
I still miss them, you know.