A few weekends ago some of my high school friends (and one college friend – hey, Daph!) came for a visit, and we did all sorts of fun things like talking and drinking coffee and talking and eating cheese & crackers and talking and hanging out in our pajamas and talking.
Our time together was jam-packed with adventure, as you can tell.
We actually managed to leave the house for lunch on Saturday, and afterwards Merritt, Elizabeth, and Daph wanted to go to a movie. Lately I am more and more likely to pass on a trip to the movies because, at least in my opinion, many people seem to have developed the attitude that the movie theatre is a perfect place to 1) talk about the movie while they're watching it 2) check their cellphones 50-62 times while the movie is playing 3) answer phone calls and 4) unwrap many small pieces of candy.
I know. I'm way too uptight. But if I'm going to pay cash money to spend two and a half hours of my life sitting in a dark room with strangers, I would prefer that we all sit in silence. And I would also prefer that the darkened room isn't lit at sporadic intervals by cell phone screens.
COLOR ME PICKY.
So the bottom line is that Melissa and I decided that we wanted to shop instead of seeing a movie (i.e., LISTENING TO PEOPLE UNWRAP ALL THE CANDY). Since the only thing on my need-to-do list was buying a new brush for my Mia Clarisonic (best skin care money I've ever spent, by the way), and since Melissa wanted to look for some new make-up, our first stop was Sephora.
It was last year, I think, when I bought the Urban Decay Naked eyeshadow palette that everybody was raving about online, and I liked it. I did. But most of the colors are too dark for me to wear on a daily basis. For one thing, I'm Pale-y McPalerson, and for another thing, I am not by nature a person who can pull off a smoky eye. I tend to like pretty, soft neutrals – nothing super dark and nothing super frosty.
Once I realized that there were only a couple of colors in the Naked palette that worked for me, I kind of kept my eye open (get it?) for something that might be better. I tried a couple of drug store brands, one department store brand, and even just barely applying some of the darker Naked colors, but none of those options worked very well.
However.
HOWEVER.
When I was at Sephora with Melissa, my whole make-up world changed when I ran across this (much smaller) Urban Decay Naked Basics palette.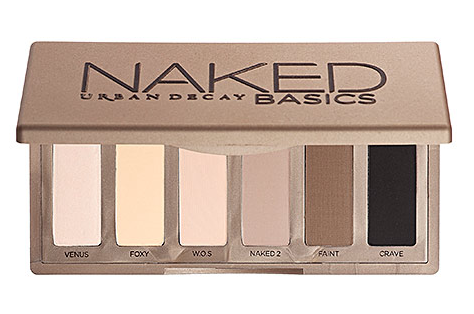 If you like neutrals, you are going to love these colors. There's only one in the whole palette that I would consider even remotely shimmery – and the rest are just good, basic (hence the name, I reckon) eye shadow shades that go with everything. The really dark shade makes a great liner, and for some of you it's probably a color that you can wear all the time.
(I am not one of those people. But if you are, then please know that I'm just as tickled as I can be for you.)
So there you have it. My new and exciting eye shadow find.
Tomorrow I'll be sure to tell you all about the canned beans I found on sale at the grocery store.
I'm kidding, of course.
Well, maybe.