We've discussed several times that I have a personality that tends to err on the side of obsessive. And I say that like it's my personality's fault, like I carry no real responsibility in terms of disciplining myself to DIAL IT DOWN A NOTCH.
So considering the way that I can jump on board with a project and just spin and spin and spin without making any real forward progress, I can't thank y'all enough for your suggestions about affordable ways to give Alex's room a little make-over. I feel like I have a game plan now – as opposed to just hopping in my car and driving from store to store to store with no real sense of direction. Yay, Internet, for the wise counsel. I appreciate it more than you know.
And while we're on the subject of my obsessiveness, I figured I might as well mention a few things that have also captured my attention over the last week or so. Because as far as I'm concerned, the crazy cannot be conquered until it is shared.
(Is that on a free printable somewhere?)
(Or maybe cross-stitched somewhere on Etsy?)
1. Watching Pretty Woman for the first time in years
Saturday night was the first time in about five days that I'd watched something besides the news, and I happened to catch Pretty Woman about 20 minutes into the movie. I hadn't seen it in forever, but I was immediately fascinated by the fact that it didn't look nearly as dated as I expected that it would. The clothes still looked pretty modern, and the decor was fairly classic with the exception of some bright mauve carpet. But oh my goodness – THE PHONES.
I got so tickled. Because they were brick-esque, really.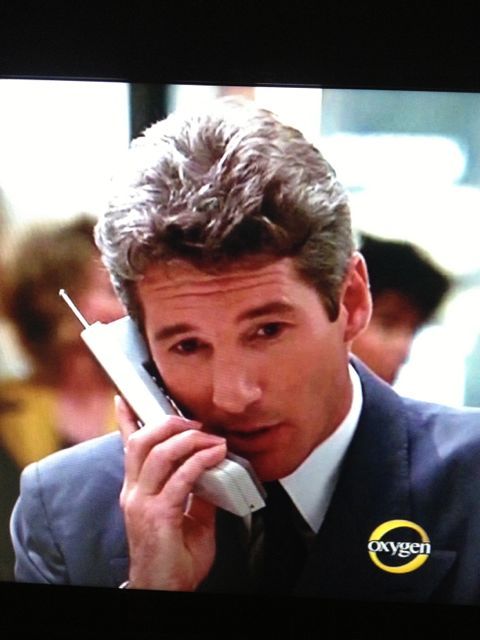 I wish I'd taken a picture of Edward with his cell phone. It had to have weighed a solid eight pounds.
2. Soup
Seriously. Soup. Ever since the Virus-O-Doom hit our house a couple of weeks ago, I have been craving soup. The fact that it's not winter anymore has done absolutely nothing to deter my soup-related enthusiasm. Tonight I made a new tomato soup recipe, and it was delicious. Ree's tortilla soup will be on the menu for later this week. I doubt this soup phase will last long since there are some meat-and-potatoes fellas in this house, but I'm gonna enjoy it while I can.
3. The Great Gatsby (the new movie)
I'm oh-so-excited about the movie simply because I love the book so much. In fact, I actually started a post about ALL MY MANY THOUGHTS a few days ago. I know that book adaptations are rarely as good as books are, but I totally have my fingers crossed on this one. And if nothing else, I think that seeing the sets will be worth the price of admission. The trailer looks absolutely gorgeous.
4. Open Front Jersey Cardigans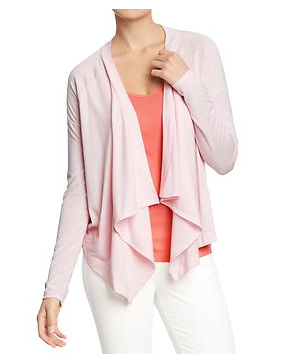 Now to be clear, Old Navy calls these LOUNGE cardigans. I don't know if that means that you're only supposed to wear them with yoga pants when you're relaxing around the house, but I am here to tell you that if you like a little extra coverage (amen) or an extra layer (I am such a fan of layers – especially in the fall and spring), these are super-soft and fun to wear with colored jeans. I just ordered the pink and the light blue – two colors that I have not worn much at all over the last few years – and I am crazy about them. Yesterday I wore the pink one with some green jeans, and I felt like it was 1988 all over again. Except that hopefully my bangs are in much better condition now.
5. CL by Laundry Date Night Wedges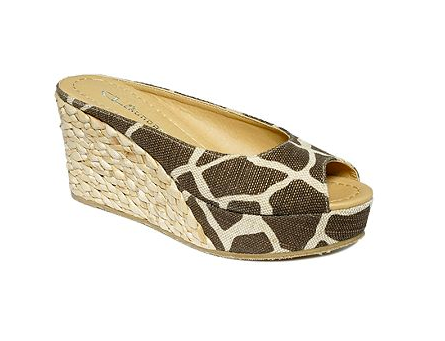 Last year I saw these shoes in Stein Mart and didn't buy them because I just wasn't sure if I'd wear them that often. But I thought about them over and over again last summer, and when they showed up in Stein Mart a couple of months ago, I snapped them up (on sale, hallelujah). They're almost like a flat on top of a wedge, and they run pretty true to size. What I like about them the most, though, is that they're great with the skimmer length / ankle length / longer capri length pants and jeans that are everywhere right now. If you feel like you're in a flip-flop rut (raising my own hand) and need something a little sassier, these shoes might be just the ticket.
All righty. That about covers it – at least for now, I reckon. And by all means, let me know if you've run across any movies / soups / loungewear / shoes that I need to check out.
Hope y'all had a great weekend!