I meant to post about this earlier this afternoon, but then I got very busy making a big pot of black beans and folding clothes while I watched The Amazing Spider Man.
That last thing? I know. It's like I don't even recognize myself anymore.
On top of that, I didn't realize that there is a giant lizard in this particular Spider Man installment, so as a person who has a borderline phobia where scaly textures are concerned, I have been challenged to the very core of my being. I may require therapy.
But that's not what I wanted to tell you. Because I have news that is much better than anything I could ever share with you you about giant lizards.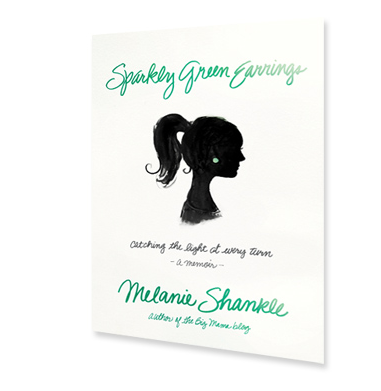 The Kindle edition of Melanie's book is ZERO DOLLARS today on Amazon.
FREE AMERICAN DOLLARS, my friends.
I don't have any idea how long it will be free, so if I were you I'd GIDDY UP and download a copy.
And if you're thinking, "Oh, I won't be able to download it – I don't have one of those fancy Kindle thingies," don't forget that Amazon has free Kindle apps that you can install on just about any device: iPhone, iPad, Macbook, PC, Android, a box of KFC – the possibilities are endless.
Hope y'all have had a great weekend!
p.s. I just found out that the Sparkly Green Earrings ebook is also free at BN.com today – so if you have a Nook, you're in business. (Thanks, Mary, for letting me know!)