So remember when my book came out and one of the giveaways was a cast iron skillet and fifteen pounds of bacon?
Well. I was actually supposed to give away two cast iron skillets. But I forgot all about that second one because the week before the book released I was very busy watching Mississippi State baseball while I tried to ignore All The Nerves. I really was scared out of my ever-livin' mind, and baseball was my most favorite coping mechanism in my time of publication need.
I will pause for a moment so that you can marvel at my lack of mental strength and maturity.
So for the last three months, that second skillet has been under the watchful eye of my friend Maria at Tyndale. And earlier this week I got a couple of very funny emails from Tyndale friends that essentially said I AM TIRED OF MOVING THAT SKILLET OUT OF THE WAY WHEN I WANT TO SIT DOWN IN MARIA'S OFFICE. PLEASE GIVE IT AWAY.
Which is what I'm about to do.
But – but! – there's even better news. Because this past weekend I got to hang out with sweet Misty from Petit Jean Meats, so after the Tyndale folks emailed me about the skillet, I emailed Misty and said, "Hey. You want to give away some more bacon?" And then she wrote me back and said, "Yep. Sure do."
(That might not have been the exact conversation.)
(But you get the idea.)
And that is why today I am so happy to give away a 12-inch cast iron skillet along with fifteen pounds of Petit Jean Meats bacon.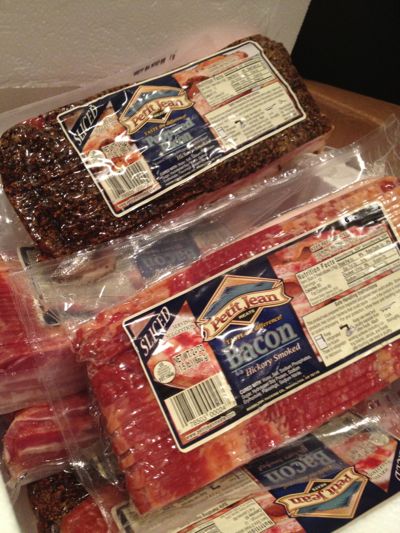 These two things belong together. It's the Southern way. And I can tell you without hesitation that Petit Jean's black pepper bacon is the best I have ever had.
That is high praise considering that I am no stranger to the bacon.
SO. If you'd like to enter to win a a 12-inch Lodge cast iron skillet, FIFTEEN POUNDS-O-BACON, and a copy of my book because, well, WHY NOT, just leave a comment on this post. If you'd like a second entry, just go like the Petit Jean Meats Facebook page and then come back here and leave an additional comment (you can just say "PJM Facebook" or something like that in your second entry).
I'll close comments on this post Friday night, and I'll select a winner using random.org.
Happy Wednesday, y'all!
This giveaway is now closed.