Tonight I spoke at Oak Mountain Presbyterian here in Birmingham. I had the best time and was reminded all over again why I love the local church. I really can't explain what it does for my heart when I go into churches and see women talking and laughing and loving one another so well (honestly, seeing women who KNOW one another is no small thing – it makes me teary-eyed every single time). So all that to say: I was so honored to spend a few hours with the OMPC women tonight.
And while this may seem like a very small and meaningless detail about OMPC, I need to share it: they have a crushed ice machine there.
No kidding. That ice was such a big deal to me that for about five minutes after I enjoyed my first cup of ice water, I wondered how I was going to share the news about the ice with David and tell him that we might want to consider moving our membership.
I mean, good theology is one thing. But good ice in a church? It is a ministry in and of itself.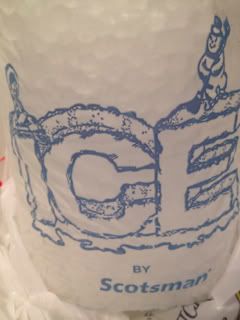 My love affair with certain kinds of ice is nothing new. After all, I've mentioned one or 98 times that I have a real thing for pellet ice. My favorite ice in the world is probably from Zaxby's – it is a little larger than Sonic ice and all manner of glorious – but then last week I went to the new Chick fil A that's close to my work and discovered that they also have pellet ice, albeit in a slightly larger size.
I'm not gonna lie. This was a Chick fil A game changer for me. I have always enjoyed their lemonade and their unsweetened tea (and occasionally a combination of the two), but their ice is typically so large that I feel like a straw has to fight it every step of the way. The pellet ice, however? Well, it ensures that the ice won't melt as quickly (pellet ice is so good about staying icy cold) AND there is increased straw movement inside the cup.
Not that I overthink this particular topic or anything.
So, if I had to currently rate my cold-drink-over-ice options, here's where I'd land.
1. Zaxby's unsweetened iced tea with two lemon wedges
2. Chick fil A Diet Dr. Pepper (but only at the new CFA with the larger pellet ice)
3. Zaxby's Diet Dr. Pepper
4. McAllister's unsweetened iced tea with one lemon wedge (their lemon wedges are bigger than most, and though their ice is subpar, the deliciousness of the tea covers a multitude of ice woes)
5. Urban Cookhouse unsweetened iced tea with two lemon wedges
Honorable mention goes to Crystal Light Strawberry Orange Banana over crushed ice from my refrigerator.
If you are equally high maintenance with your drink options, please feel free to share your favorites.
And if you just happen to prefer some room temperature tap water, please know that we won't judge you for your ice-free preference.
We might not understand you.
But we will most definitely love you anyway.
Happy Friday, y'all.