If you've been around here for awhile, you may remember that about four years ago we collected a love offering for Kelli Bach, our bloggy friend who's in stage 5 kidney failure and waiting on a kidney transplant. At the time we wanted to raise enough money to cover Kelli's health insurance expenses for a year (her condition had deteriorated to the point that she could no longer work, and the COBRA expenses were pretty steep). That day was a testimony to the incredible spirit of generosity that's present in this little corner of the internet.
Like a lot of you, I've continued to follow Kelli's condition over the last few years (here's her story). She has endured tests and treatments and surgeries and hospitalizations that most of us cannot even begin to fathom. Some days have looked pretty bleak. Maybe even hopeless. But she and her family have held fast to faith, and after years of waiting, Kelli has finally been matched with a living kidney donor named Sarah.
THAT. IS. HUGE.
Kelli's insurance will cover all the transplant costs for her and for Sarah, and that's definitely cause for praise. Even still, there are expenses that insurance won't cover. Kelli is responsible for Sarah's travel, food and lodging costs. Kelli will also need to cover her own costs, including travel and lodging for four trips from Oregon to Los Angeles prior to transplant – and for the four weeks (minimum) she'll be required to stay in Los Angeles after her transplant. She'll have to stay in a hotel, secure transportation to the hospital for tests and pay for meals. If her husband and children could make the two-day (each way) trip to see her at some point while she's in LA – well, that would be gravy.
If you're wondering why she's going all the way to Los Angeles, it's because Cedars-Sinai has the best transplant success rate with "highly sensitized" patients like Kelli. Cedars is her best shot for a successful transplant. To be frank, Cedars is Kelli's best shot for life.
Kelli and her family have moved several times over the last few years in order to be close to the hospitals that could offer her the best treatment. She has not had the luxury of being in the same town at the same church with the same friends. If that were the case, I probably wouldn't be writing this post. But since it's not the case – well, maybe some of us can step up today and be the church for the Bach family.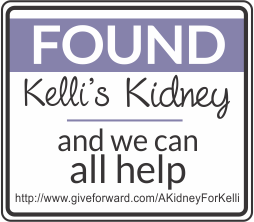 If you feel led to contribute even a small amount to Kelli's transplant expenses, there's a very simple, safe, secure way for you to give online at GiveForward.com. If 100 of us will donate $10, we can make a dent in the expenses that aren't covered by insurance. If you don't feel led to give financially, then I know Kelli and her family would be oh-so-grateful for your prayers.
(And just to be clear: I would never, ever want to make you feel obligated to give to or pray for a cause if you don't feel led to do that. So please know that there is NO PRESSURE. Also, all of the donated money will go straight into the Bachs' Give Forward account. NO ONE besides their family and Kelli's donor will have access to or benefit from your donations.)
(There. I believe I've over-explained enough.)
God has been so gracious to provide a donor for Kelli. The fact that Kelli has insurance to cover the medical expenses is a tremendous blessing. And now we can step in and provide one of the final pieces of the transplant puzzle.
I don't know about you, but that makes me smile. What a sweet privilege.
Thanks in advance, everybody.
————————————
DeeDee is also linking to Kelli's Give Forward page today. Big thanks from both of us to Karla for creating a bloggy button for Kelli – feel free to grab it and use it on your own blogs.