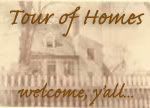 Welcome to the 1st Annual BooMama Blog Tour of Homes! I can't wait to see all of your posts and pictures – so in the spirit of the festivities, here are some snapshots of La Casa de BooMama.
You'll have to forgive this first image. Since I'm at my parents' house, I had to crop a picture of the outside of the house so that only the front door was showing (trying to protect my family from The Ring of Thieves, of course). But when I finally got it cropped on Daddy's unfamiliar software, it turned a little smaller than I'd planned. You can get the idea, though.
This is our den – where we do all of our hanging out, TV watching, and some of our very best napping.
And then our master bedroom – with all shams, drapes, and throws made especially by Sister. She's a talented one, she is.
The kitchen is pretty self-explanatory. It's where we, you know, cook. My favorite thing is that the pantry door is covered with Boo's artwork – which makes it functional AND decorative. You can't see the rest of the cabinets, the refrigerator, or the breakfast area, so just close your eyes real tight and let your imagination run wild. :-)
And then, over in the corner of the den – the place where all the bloggy magic happens. With "magic" being a bit of an overstatement…but a whole lot of typing goes on in that chair after the little one goes to sleep.
Upstairs is A.'s room, his playroom / guest room, another guest room and a bath. It's his little sanctuary up there, and it felt weird to me to post pictures of it. So, again, just close your eyes real tight…. :-)
And now that you've seen all I have to offer…SKEDADDLE. :-) Lots of great posts to read – and don't forget to comment on them!
Remember, when you enter your link below, link to the specific Tour of Homes post – not just to your blog in general. We wouldn't want anyone to get lost as they navigate their way through this new bloggy territory.
Happy tour travels to all! I'm so glad – and so grateful – that you're sharing your homes with all of us. I can't wait to stop by for a visit.