When Alex and I walked in Mama and Daddy's back door last Friday afternoon, I immediately knew that spiced tea was on the stove. The house smelled like Everything Fall, and it made me want to crawl under a blanket and watch college football and drink spiced tea for the next sweet forever. Mama was having a luncheon for five of her friends, and after wandering through the house a little bit, Alex and I found all of them gathered around the sofa in the living room, swapping copies of Mama's recipes.
I believe this was the forty ninth or three hundred thirty second time this has happened in my life.
My mama enjoys a luncheon.
After we spoke to everybody, I left the small talk to Alex, walked back in the kitchen, and promptly fixed myself a bowl of Mama's homemade Cream of Zucchini soup. It's one of my favorite dishes, but I hardly ever make it since D doesn't think it constitutes a meal. I remember making it at least once the first year we were married, and while D thought it was absolutely delicious, he finished his bowl and looked at me like he was waiting on the next course.
Little did he know that the next course was air.
So on Friday I devoured that bowl of Cream of Zucchini soup in mere minutes, and as I looked around at the other items on the menu, I knew that I'd have to share them with y'all. Everything was so simple, so colorful and oh-so-delicious.
And just look at Mama's centerpiece on her dining room table:
Isn't it pretty?
I think it's safe to say that there is not an artificial autumnal leaf left anywhere in the southeastern United States.
She also used these adorable bowls to serve her soup: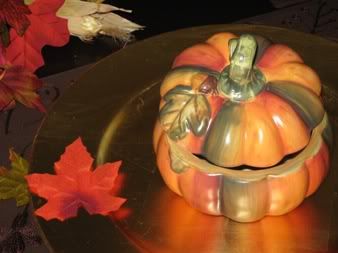 You may have picked up on the fact that she enjoys a theme when she entertains.
And it works for her. Oh yes ma'am it does.
*****
Mary John's Apple Tea
1 qt. cider
1 cup cranberry juice
1/2 cup dark brown sugar
2 sticks cinnamon
8 whole cloves
1/4 teaspoon ginger
1/4 teaspoon nutmeg
Heat until it boils, then reduce heat until ready to serve.
Cream of Zucchini Soup
2 medium zucchini, grated
2 medium carrots, grated
1 medium onion, chopped
1/2 cup butter
4 tablespoons flour
2 13 1/2-ounce cans chicken broth
4 ounces grated Monterey Jack cheese
1 cup milk
1 teaspoon salt
1 teaspoon pepper
Place grated zucchini in a colander; sprinkle with salt and let sit for 30 minutes. Drain well. Saute' grated and chopped vegetables in butter, until slightly limp. Stir in flour and cook over low heat for 5 minutes, stirring constantly. Slowly add chicken broth and stir until smooth. Add grated cheese and stir until melted. Add milk, salt and pepper. Serves 6.
Cranberry Salad with Orange Salad Dressing
1 6-ounce package raspberry Jell-O
2 3/4 cups boiling water
1 8-ounce package cream cheese
1 15-ounce can crushed pineapple, drained
1 16-ounce can whole cranberries
1 cup pecans, chopped
Dissolve Jell-O in boiling water. Set aside to cool. Whip cream cheese with a small amount of the pineapple juice to soften. When well mixed, fold in the pineapple, cranberries and nuts. When the gelatin starts to congeal, fold in the mixture. Chill until firm.
Dressing:
1 4 1/2-ounce carton frozen whipped topping
1/3 cup Hellmann's mayonnaise
1/4 cup instant Tang
Mix ingredients together and refrigerate. Use desired amount on top of each serving of salad.
Fig Preserves Cake
2 cups flour
1/2 tablespoon nutmeg
1 1/2 cups sugar
3 eggs
1 cup buttermilk
1/2 cup pecans (optional)
1 teaspoon salt
2 teaspoons baking powder
1 tablespoon cinnamon
1 cup canola oil
1 tablespoon vanilla
1 cup fig preserves, chopped
Sift together the dry ingredients; add oil and mix well. Add eggs; mix well. Add buttermilk; mix well. Add figs and pecans. Bake 40-45 minutes at 325 in 9 x 13 greased pan.
Topping:
1 cup sugar
1/2 cup buttermilk
1 stick butter
1 tablespoon vanilla
1 tablespoon corn syrup
1/2 tablespoon baking soda
Mix all ingredients together; boil 3 minutes. Remove from burner. While hot, pour over cake. Punch small holes in cake as topping is poured on.
*****
Good luck eating just one piece of that fig preserves cake, by the way.
In fact, the fig preserves cake and I were caught up in a bit of spiritual warfare over the weekend. I told Sister that I just wanted to grab a fork and the cake plate and sit down and GET IT OVER WITH, but in the strong name of Jesus I was able to stand firm in the midst of all the spicy sweet temptation.
We are more than conquerors, y'all.
It was a beautiful luncheon, and Mama's friends seemed to enjoy themselves so much. Hopefully you'll be able to use at least one of these recipes as you entertain during the upcoming holidays.
But if you make the soup for a meal where your husband will be present, I strongly urge you to also pick up a bucket of fried chicken or something. In the interest of marital harmony and all.
Enjoy, everybody!