My cousin Paige and I drove up this afternoon so we can hang out with Sister, and I'm going to liveblog the ASCAP Christian Music Awards because, well, Sister's friend Dan asked me to.
And we love Dan.
So Paige and I went downstairs a few minutes ago and got ourselves all spiffy in the ladies' locker room (we're at a country club), and THERE WERE CANISTERS OF SNACKS THERE, so clearly I'm never leaving.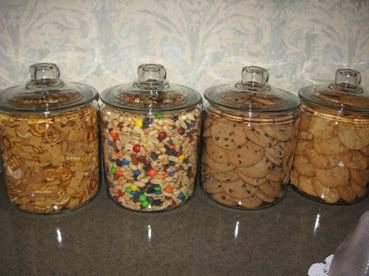 I take a large container of trail mix very seriously, my friends.
Especially when the trail mix contains M&M's.
Anyway, now we're sitting in the main room listening to Phil Stacey do his soundcheck (and he is ROCKIN' IT, and don't get me started about how surreal it is to sit here in a room where he's, you know, PRACTICING), and just a few minutes ago I snapped a picture of Sister while another band you may have heard of did their sound check.
That would be Mercy Me.
So I'm going to sit back here in my little corner and snap pictures and write blog posts. It's like I'm in my own little geeky heaven right here in the middle of the fancy singer people.
This is gonna be fun, y'all.
Check back in a little bit for more updates.