Sunday afternoon I decided that Alex's closet was cluttered enough to be deemed Officially Hazardous, so yesterday I spent most of the morning sorting through old books, old clothes, old toys and old shoes.
And in case you're wondering if I took a picture of the final product, well, OF COURSE I DID.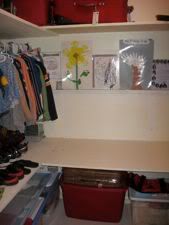 Now granted, you can only see one side of closet in the picture, but the other side of the closet is cleaned out, too. And besides, do you notice THAT WHOLE BIG SPACE WITH NOTHING ON IT?
I'm telling you: that whole big space with nothing on it is one of the crowning achievements of my life.
Or at least of my life in, you know, May.
And ever since I finished working in that closet, I have been on what my mama would call a RIP IT. I've stripped beds, mopped floors, cleaned bathrooms, washed and put away about eight loads of laundry, and I'm about to tackle my baseboards as soon as I post this because I believe it's been well-established that I am an all-or-nothing girl, so as far as I'm concerned I can either clean my house until it shines or sit on the couch, eat Cheetos and watch HGTV.
And today I choose to clean.
But tomorrow there's an excellent chance that the Cheetos will win.
(Now please hold for one second while I mop.)
(I'm not even kidding.)
(I'm making you sort of tired, aren't I?)
(IMAGINE WHAT A DELIGHT IT IS TO LIVE WITH ME!)
(Okay. I'm back now.)
Anyway!
At some point in my massive housecleaning extravaganza, I decided to tackle the bar in our living room, and I kept finding CDs tucked away in drawers. And after I happened upon about the ninth CD, I was all, Why do I have all these CDs taking up valuable storage space? Couldn't I be using this space much more effectively? Like to store Windex? Or Pledge? Or Clorox? Or some other cleaning product that would help me to maintain the completely unattainable level of clean that I am striving for over the next two days before I get back on the couch and eat Cheetos again?
Oh, make no mistake, people: I am a CARNIVAL of insanity.
So!
I now have this stack-o-CDs that I don't really need anymore because they're either a preview copies someone sent me or they're left over from a giveaway or they're already on my iTunes or someone is sneaking into my house at night and leaving stray copies of contemporary Christian music in random drawers behind the bar in my living room.
Regardless!
I'd love to send one of you the whole stack-o-CDs. There are probably eleven or twelve CDs in the stack right now (Third Day, Leeland, Casting Crowns, Matt Redman, etc. and so on and so forth), but that number could increase as I clean out additional drawers in additional areas of the house where I'm doing some additional cleaning.
CAN ANYONE TELL THAT I'M HOME ALONE TODAY?
So if you'd like to win, just leave me a comment and tell me so. I'll close the comments sometime tomorrow morning and then select a winner using random.org.
Please know that my crazy and I thank you in advance for your participation.
And have a great day, y'all.
This giveaway is now closed.