I would be lying if I told you that I was easy-breezy in the weeks leading up to SheSpeaks. Because the fact of the matter is that I was what you might call PLAGUED BY ANXIETY. I was utterly convinced that any situation that involved me saying real-live words in front of a real-live people had DANGER! DANGER! written all over it, and there were days when the simple act of, you know, breathing raised my heart rate to aerobic levels.
In fact, I'm thinking of writing a book called The Crippling Fear and Anxiety Workout: Lose Weight – And Your Sanity! – While Sitting Perfectly Still.
It's sure to be a bestseller.
Fortunately, the anxiety subsided a little bit when I landed in Charlotte. And once I actually settled into the swing of the conference routine, I had so much fun. Even if I wanted to throw up as Melanie, Shannon and I made our way to a luncheon Friday afternoon.
Because nothing conveys an attitude of calm confidence like vomiting in a lovely, light-filled atrium.
The luncheon turned out to be great, though. Lysa was as gracious and encouraging as ever, and I loved getting to know some of the people who work with her at Proverbs 31 a little bit better. They were, without exception, warm, engaging and kind. I tried my best to behave so that I wouldn't embarrass them.
Though I may have crossed the line when I used the phrase "pimp my post" in our Q & A session Saturday afternoon.
I do, as ever, have such a delicate way with language.
One of the weekend's biggest highlights was being led in worship by Lindsey Kane, a girl so adorable that Melanie and I honestly could not look in her direction without lapsing into our very best Martha imitation and saying, "She's darlin'! Just darlin'! Can you even BELIEVE how darlin' she is?!"
Because, well, she's darlin'.
And talented, too.
I especially enjoyed getting to hang out with blawgy friends. Mel, Shannon and I met so many neat people, and do you know that Robin even brought me a box of the fancy Cheez-It Sharp Cheddar and Parmesan Duoz? They're PRACTICALLY MY LOVE LANGUAGE, Y'ALL.
I was deeply touched and will remain forever grateful.
And I finally – FINALLY – got to meet DeeDee and Tina in real life. After two years of reading their blogs. And they were just as wonderful as I knew that they would be.
Saturday night several bloggers made an impromptu supper run, and I ended up sitting across from Annie and Missy, also known as my Bravo-Watch-What-Happens soulmates. I laughed until I just flat-out guffawed, and I was slack-jawed, really, over how much we have in common. It felt like we'd known each other for years.
Yesterday, as I was alternating between dozing and reading Us magazine on the flight home, I couldn't help but think that if I'd let that stinkin' anxiety get the better of me – if I'd done what comes naturally to me and said no to Lysa's invitation – I would've missed out on so much.

Missy, Mel, Shannon and Annie

Dawn, Shannon, Jo-Lynne, Mel, Annie, Some Loud Girl, Robin, Valerie, Lisa B., and Sarah
Because I would've missed out on
them
. And so many others.
That would have been a very sad thing indeed.
So yeah, I'm a person who is most comfortable when I'm sitting on my couch, wearing my pajamas, hiding behind my computer and cranking out some stunningly mediocre content. I'm a behind-the-scenes girl who will tell you in a heartbeat that Home Is My Happy Place, especially if there's some quality reality and/or home improvement television involved.
But this past weekend reminded me that every once in awhile it's good to stretch my heart and my faith by stepping outside of my comfort zone. It's not easy for me, but it's good. It's necessary.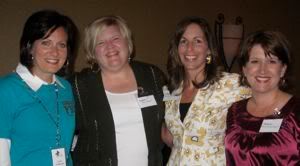 And it's worth it.
It really is.