Just a few items of (relative) interest:
1) A few weeks ago I mentioned a possible night-o-fun for bloggers who live in or around Birmingham. And after we all exchanged a couple of emails, we realized that schedule-wise that particular date just wasn't going to work.
So. All that to say.
We now have a new date for All The Fun. It's on a weeknight in October – but not on a Wednesday so it won't interfere with church. If you live in this area and you'd like more info, email me.
2) I'm helping the folks at Praise Baby line up some contributors for their new blog. Specifically (and ideally), I'm looking for about 25 people who would commit to writing two short posts over a period of three months (late-October to late-December). If you're interested, email me. And yes, there is free music involved.
3) And finally, because it's never too early to start planning for the holidays: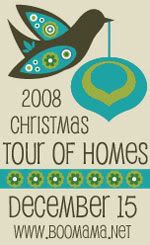 I'll post more details in the next week or so!
p.s. Shannon made the adorable button. I'm telling you: she is handy on them there computers. FAYN-CEE!