Last Thanksgiving we forgot the ham.
This Thanksgiving, apparently, we forgot the Purell.
Because by sundown Friday night, the people in our family were dropping like flies. Stomach Virus '08. Live and in person. And ready to ROCK OUR WORLD.
All told, there were six victims. I was victim #2 if our statistics are accurate. I went to bed unusually early Friday night and woke up about midnight with that "OH NO MA'AM" feeling, and while I'll happily spare you the details, suffice it to say that it'll be a long, long time – lo, even an eternity – before I ever, EVER want to eat cornbread dressing again.
Shudder.
I also enjoyed some crazy virus dreams, including but not limited to Feeling Panicked Because I Watched An Episode Of 'The Office" And Forgot To List Highlights On My Blog, A Looping Photo Montage Of The Soup Mama Made With Thankgiving Leftovers (starring: TURKEY BONES!), and Catching Up With A Person I Haven't Seen Since Approximately 1997 But She Was Still Cute As A Button In Our Imaginary Dream Conversation Eleven Years Later.
Alex also fell prey to Stomach Virus '08 about twelve hours after I did, and mercifully Mama was able to take care of him while my bed-headed, dazed and confused self stood off to the side and mumbled things like, "Hand you rag?" or "Hand you clean t-shirt?" or "Sorry. So sorry. So, so sorry."
Oh, I was a world of help, I was.
Anyway, Mama had to change Alex's pajamas about three times in the first few hours he was sick, and at some point she got into the pajama reserves that the little guy's older cousins have left at her house over the years. And that is why, when I woke up this morning at the crack of ten, I found a certain five year-old wearing this shirt: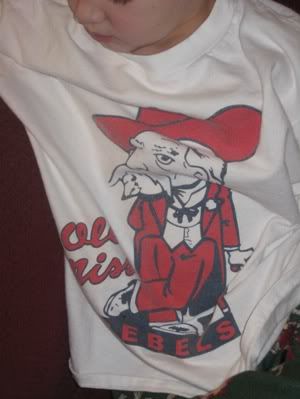 You can imagine my pain. Salt, meet wound.
But being a house divided on an in-state football rivalry has its benefits – because look at the little man's pajama bottoms: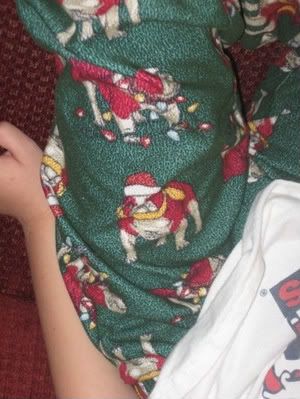 Bulldogs. Ah, that's better.
And so are we.
Now we're about to hit the road, head home, and deck our halls.
Have a good one, everybody!