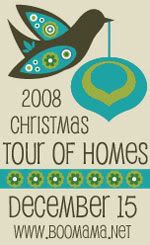 Hey everybody –
I'll have a giveaway post up later this afternoon, but before I forget I wanted to remind you that the Christmas Tour of Homes will be Monday, December 15th. If you want to check out how things worked last year, you can look right here.
If you want to grab the button for your blog, here's the code:
I'll update the button code on Sunday, just in case you want to make the button on your blog link directly to the Tour of Homes Mr. Linky on Monday.
Finally, if you need a reminder about guidelines for the tour, you can find those right here.
Have a great weekend, everybody!