I don't really know how to explain why I've been so scarce around here lately without doing a significant amount of oversharing, but yes. I've been a little out of my bloggy routine this week. After we got home from Travis' (phenomenal) concert, I tried to tackle my to-do list, and I think I didn't give myself enough recovery time. Because Tuesday afternoon I had what my mama would call a sinking spell. Just bottomed out. Got all weepy and worried and whathaveyou. Felt way overwhelmed and burdened for a sweet friend. Fell apart after David and I realized that Hoopty Laptop is for real, straight-up dead this time (she quit working last week, and we suspected it was a power cord issue, but it's not, and Hoopty, She Is Dead.)
(Poor Hoopty. Her passing makes me think of a WH Auden poem, which I will paraphrase at this juncture:
[Hoopty] was my North, my South, my East, my West;
My working week and my Sunday rest;
My noon, my midnight, my talk, my song;
I thought [our] love would last forever. I was wrong.
And I didn't really love my computer. But I liked her a whole, whole bunch.)
It hasn't helped that I've been listening to way too much Shawn Colvin, and Shawn Colvin always makes me cry because it reminds me of when I was in grad school and my friend Bubba was going through a difficult time and I used to think about him when I'd hear her songs and REALLY, I'M NOT AS CODEPENDENT AS I MAY SEEM, I PROMISE.
Fortunately we had an old Mac desktop in our garage, and the husband got it all set up for me in the dining room. It works great. I'm very, very grateful to have it as a back-up. I just miss Hoopty. As Melanie said earlier this week, Hoopty has been really good to me except for all the times she crashed when we tried to record all the podcasts you've never heard.
So there was that.
And then Tuesday night I read this week's Newsweek that featured article after article about how horrible everything is and how it's not going to get any better and how the entire global economy is collapsing on itself and how we've zigged when we should have zagged and, no kidding, I really thought I was going to have to take some sort of nerve pill when I finally closed that magazine. So I've made the very mature decision to stop reading and watching the news. It freaks me out. And I really do think that if the news media would report positive stuff for a solid month instead of focusing so much on the gloom and doom that things really would get better. Because we'd all feel better. And when you feel better, you act better. I know that's simplistic. But it couldn't hurt.
However, I won't know if they decide to report positive stuff or not because I'M DONE WITH THE READING AND THE WATCHING.
In the happy column, the five year-old has never in his whole life been more delightful company. We have had the most fun week together. Monday night when I was cooking supper he grabbed my camera and took pictures, and when I transferred pictures to my computer the next day I laughed my head off.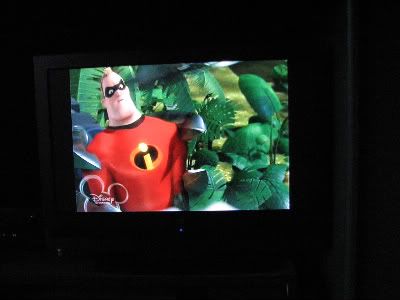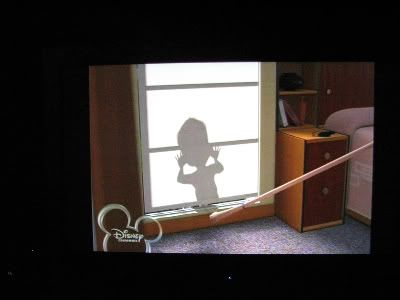 Apparently his craft is heavily influenced by Pixar and Nintendo.
Okay. Two more things. Maybe three.
My sweet friend Merritt is flying into town tomorrow and I CANNOT WAIT TO SEE HER FACE. We haven't seen each other in over a year, and I've already warned her that I will probably cry when I see her. The crying isn't necessarily unusual in a week where I cried over a power cord, but my Merritt-related tears will be infinitely more heartfelt. OHMYWORDI'VEMISSEDHER. Cheese dip and guacamole for everyone!
Also: "The Office" and "30 Rock" are re-runs tonight, and all I have to say about that is NO FAIR.
Finally: your hair looks really good today. Really. It does. FABULOUS.
And I believe that's all.