One day last week I was checking email while the little man was having a snack at the kitchen table, and out of nowhere he yelled, "MAMA! YOU'RE NOT GOING TO BELIEVE WHAT I INVENTED!"
Needless to say, I coudn't wait to see what all the fuss was about.
As it turned out, the child had come up with what he felt was quite the culinary treasure, and I asked him if he'd reproduce the steps so that I could share them with you. He was insistent that we use a paper plate for the demonstration, and I told him I thought that would be perfect.
You may want to take some notes.
The Goldfish Cracker Cracker
Step one: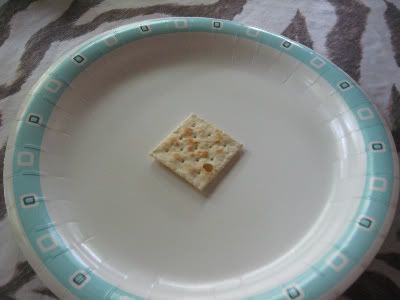 Step two:
A Cheez-It would also work if you feel your palate can handle it. I suppose you could also branch out and use something along the lines of a Better Cheddar, but that seems like a risky move in my humble opinion.
Step three:
And finally:
The flavors are very subtle and layered.
There's no question that Ree is going to be SICK that she didn't get to include this recipe in her cookbook, but maybe The Goldfish Cracker Cracker can make it into the next one.
Along with The Cheese Curl Cheese Puff.
And The Turkey Bacon Bacon.