Well, we're home now, and I don't know whether I'm happy or sad to report that I didn't see a single person at the pool in Gulf Shores who was wearing pantyhose. I mean, seeing one person in hose this summer is an anomaly. But if I'd seen two, I would've alerted InStyle magazine that we have us an Official Summertime Trend.
Anyway, now it's time to play catch-up on all the business of real life: turning in forms for school, unpacking suitcases, buying groceries, wondering where all the pretty sand is, etc. and so on and so forth amen. I also have to get back in the habit of wearing clothes that button and zip, but I can't talk about that right now because quite frankly after spending the better part of two and a half weeks in either a) a swimsuit / cover-up combo or b) pajamas, fitted clothes are clearly my nemesis. Last night I wore some pants that button AND zip to church, and you'd have thought I was in a straightjacket. The non-elastic waistband frightens and confuses me.
And now I would like to bore you with some pictures from the beach.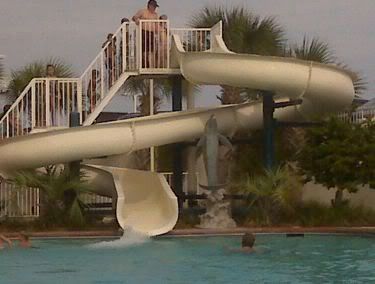 This is the third big slide at the place where we stayed. By my very rough estimation, we spent approximately 42 hours at this slide over the course of seven days. In fact, when we got ready to head home yesterday morning, Alex said, "Mama, I'm a little sad about leaving because I really love that slide and would really love to live here all the time."
He and that slide forged quite the lasting bond.
He and his goggles also forged a lasting bond, as evidenced by the fact that he opted to wear them ON THE BEACH. WHILE HE PLAYED IN THE SAND.
Alex and his cousin J. spent lots of late-afternoon time on the balcony. Saturday I found them sitting in these chairs, looking out at the water and shooting the breeze like a couple of papaws. So sweet.
They're good buddies.
And finally.
Yeah. I have no idea.
It was a great trip – as was our trip to Florida with Janie and the boys a couple of weeks ago – and we are so grateful for sweet family members who invite us to join them when they plan something fun. We've made some incredible memories this summer, and we are thankful.
We are also Deeply Overloaded on snack foods, which may explain my current disdain for fitted waistbands, but still. Good times.
Happy Monday, y'all.