I like to think of myself as someone who's pretty handy in the kitchen. I love to cook. I'd rather cook with a recipe in front of me, mind you, but when push comes to shove I can wing it. I can make do. If need be, I can fly by the seat of my culinary britches.
But every once in awhile there's a misfire.
And last night. Oh, last night. Last night was one of my worst misfires ever.
My intentions were good. I was making Melanie's chicken cakes (a favorite at our house), and I was scrambling around trying to figure out a side dish. I didn't go to the grocery store yesterday because, well, I decided that staying in my pajamas was infinitely preferable, so I rifled through the pantry and decided I would make some homemade macaroni and cheese.
My mother-in-law makes her mac and cheese with a cheese sauce – which is a little bit different than my recipe – and since Alex loves her version so much, I thought I'd try to replicate it with some bowtie pasta since I was fresh out of macaroni. I was in a little bit of a hurry, so instead of dragging out another pot I just poured off most of the butter that was left in the bottom of the pan I'd used for the chicken cakes. Then I put the pan back on the stove and threw in a little flour. Stirred it all together. Added some milk and cheese.
Now I know what you're thinking at this point: I should have banished that chicken cake pan to the henhouse before I started making my cheese sauce. But OH NO, I had to be Little Miss Convenience. Little Miss Don't-Want-To-Wash-An-Extra-Pan.
Anyway, the sauce thickened up beautifully, but once I added the pasta, I noticed that the color was off a little bit. I couldn't figure out what I did wrong, but as I re-traced my cooking steps, I realized that OH SWEET MERCY, I SHOULDN'T HAVE USED THE CHICKEN CAKES PAN BECAUSE THIS ISN'T CHEESE SAUCE AT ALL.
And then: OH SWEET MERCY, THIS IS CHEESE GRAVY.
And I think we all know how cheese gravies are sweeping the country by storm. They're right up there with fish cornbread.
However, I held on to hope. I thought that maybe the concoction wouldn't taste as bad as it looked and if it might turn out to be a happy cooking accident. I mean, it didn't look like much, but food doesn't have to be pretty to be delicious. Right?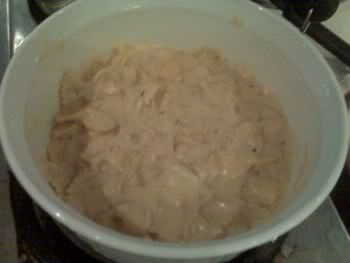 Then I tasted it.
Y'all. It was so far past dreadful that it teetered on the edge of Official Side Dish Tragedy. If I had to give this dish – and please understand that I use that term loosely – a name, I'd call it Chicken Fried Cheese Gravy Pasta With Charred Bits Of Chicken Cakes.
Sort of makes your stomach rumble just thinking about it, doesn't it?
But here's the kicker. When it was time for supper, I warned my husband about the bowties. I told him how they didn't turn out anything like I planned. How they tasted like chicken fried cheese gravy. How it wouldn't hurt my feelings one bit if he didn't eat them because I was sort of embarrassed to serve them.
And y'all, he took one bite, looked up at me, shrugged his shoulders and said, "Hmmmm. Gravy! What's not to love?"
Be sure to let me know if you'd like a copy of the recipe.