So for the last several years I've have had more fun! just more fun! so much fun! hosting a bloggy Christmas Tour of Homes. Honestly, the Tour feels like a holiday tradition to me; I love getting my house ready for Christmas, posting pictures on my blawg and then gathering 'round the warm glow of my computer monitor so that I can look at everybody else's decorations. AND I DON'T EVEN HAVE TO DRIVE ANYWHERE.
Earlier this summer I started thinking about the whys and wherefores of this year's tour, and the more I thought about it, the more I kept coming to the same conclusion: it's time to pass ye olde bloggy torch. It's not that I don't love decorating my house, because I do. It's not that I don't love hosting the tour, because I do. I love the whole kit and kaboodle. But the problem is that I'm not very, um, creative. My house looks exactly the same every single year, and I just felt like the whole decorate-your-house-for-Christmas thing might be more fun if it was in the hands of a super-creative, gifted-at-decorating person.
Well.
Not too long after I'd decided that some torch passing was in order, I found myself sitting in a hotel room in Charlotte with bunch of bloggy friends. One of those friends was The Nester. And I love The Nester. She inspired me to paint my kitchen cabinets AND to make no-sew drapes for my kitchen windows. She is laid-back and approachable and real and wonderful. Anyway, while we were sitting in that hotel room, the subject of the Christmas Tour came up. I mentioned that I had been thinking about changing the format or handing it off to someone else. And then I looked over at Nester and thought Well clearly she should be the person hosting it, MY WORD.
Long story a little bit longer: Nester has oh-so-graciously agreed to take over the hosting duties. I AM THRILLED TO PIECES. Oh, I'll still participate in the tour and then sit around the warm glow of my monitor and look at all of your houses, but Nester is going to run the show. And it'll be fabulous.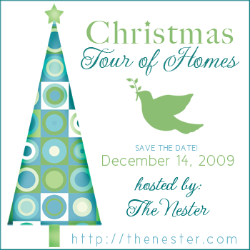 I mean, even her blog button is a delight.
So mark your calendars, girls. December 14th. A new and improved Christmas Tour-o-Homes. I can't wait.
And I hope I'll see you there.