I'm not going to get an "Office" post up tonight. I'm just not.
I know. It's terrible. YOUR WHOLE WEEKEND IS RUINED.
But I'm leaving early in the morning to go to Oklahoma City for Deeper Still, and I'm still not finished packing, and I just made a last-minute switchover to a bigger suitcase since I'm having to pack scarves and sweater coats and parkas.
Winter's not kidding around, y'all.
I've haven't been to Oklahoma City (am I allowed to say "OKC"? is that obnoxious?) in a looong time. I went once when I was 3 and once when I was 11 or 12, so I'm excited about visiting again and being able to, you know, DRIVE this time around. I actually remember the trip when I was 3 because I got a wee small spanking on the steps of the Oklahoma Capitol building. And do you know what I did after that spanking?
This.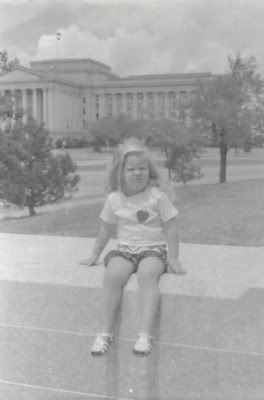 Somebody was SULK-Y.
Needless to say, I hope I act better this trip. However, if I show out and throw a fit and somebody takes a picture, I'll be sure to share it. It's the least I can do, especially with all the not posting about "The Office" that I've done tonight. In fact, I haven't even watched it yet, but I'm sure Michael did something stupid. And I'll bet Dwight did something sneaky. And I'll bet Angela said something snarky.
See? That was practically a recap.
All righty. I need to wrap up my rambling. My suitcase isn't going to pack itself. But I'll be posting on and off this weekend over at AllAccess, so if you get bored, you know where to find me.
I'll be the one wearing a parka.
But hopefully not sulking on the Capitol steps.
Have a great weekend, y'all!