Oh, Oklahoma City was big fun indeed.
First of all, there was this: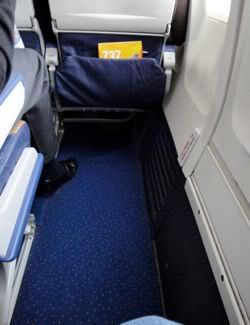 An exit row seat with all manner of leg room on the way from Birmingham to Dallas. Every once in awhile I would straighten out my legs and kick them. Just because I could. The seat next to me was empty, so I got to use the under-seat storage in front of it. PERFECTION.
When I finally landed in Oklahoma City, I drove downtown to the hotel, and I had to smile when I spotted it from a distance.
I actually stayed in the very same hotel when I was about 11 or 12. My daddy had a convention in OKC, and you'll be happy to know that I did not get spanked on the steps of the Capitol during that particular trip. I was so much more mature and, like, PRACTICALLY A TEENAGER, GAH.
Anyway, to add to my joy, there was an umbrella AND a can of spray starch in the closet of my hotel room. Even though I needed neither, I was overcome with gratitude as well as an unexpected longing for some wrinkled white cotton shirts and a nice thunderstorm.
(It's so much easier to understand the previous paragraph if you'll just remember HOW NOT AT ALL NORMAL I AM.)
Late Friday afternoon I went over to the arena for Deeper Still, and it was a mighty fine time. Over 9,000 women were there, and we all got to hear Kay Arthur teach the entire book of Hebrews.
THE ENTIRE BOOK OF HEBREWS.
And I'll tell you something else: if I get to be 76 years old and am tempted to sit around in a housecoat all day while I eat chicken and watch old episodes of "Friends," I hope I remember the sight of Kay Arthur walking up and down and all around that platform while she taught some uncompromising Truth. And I hope when I remember, I'll turn off the "Friends" and put down the chicken and put on some sassy clothes and get out there and pour into the lives of some younger women.
I'M JUST SAYIN'.
Friday night I was so wound up that I had a hard time going to sleep (sort of like, you know, NOW), and when I finally dozed off around 12:30, I was awakened by the people in the room above me who, as best I could tell, were picking up various and sundry pieces of furniture and then dropping them. It was either that or they were bowling with 75-pound balls – which, as we all know, is a sport that's catching on like wildfire in hotel rooms all across the country. So when I woke up Saturday morning, I wasn't exactly rested, but I felt a whole lot better when I saw this outside of my window.
Sometimes a wide expanse of completely flat land has its advantages.
Priscilla Shirer taught Saturday morning, and without going into all the whys and wherefores, I will tell you that her message on Ephesians 3:20-21 MARKED ME. I really want to write about it, but I honestly don't think I have the words right now. Just know this: I have loved those two verses of Scripture since I was 17 years old – even had them printed on Alex's birth announcements – and they are more precious than ever to me now. For an entirely different set of reasons than when I was 17, OH THANK GOODNESS FOR THAT.
And also.
The fact that Priscilla delivered her message while wearing this dress?
Well, that was just an extra portion of blessing. The dress was right up there with Angela's jeans back in 2007, though let me be PERFECTLY CLEAR: nothing will ever surpass the jeans. They are peerless. And one day when Angela decides she's not going to wear them anymore, I'm going gently place them in a glass-enclosed shadow box and hang them in our hallway. Right where they belong.
Saturday afternoon Beth Moore taught on spiritual discernment, and oh my word – was it ever timely for me. What I especially loved about Beth's session is that she really honed in on how to tell if you're acting (or reacting) out of true spiritual discernment or out of a critical spirit, and she offered some mighty sound wisdom. It was excellent.
And before I forget, let me tell you that if you want to smile until your face hurts, watch Priscilla and Beth's video about hair. Yes, about hair. Clearly it is A VERY SPIRITUAL TOPIC, AMEN.
Okay. Finally.
This morning I flew from OKC (I can't bring myself to say "the city" because it makes me feel like my name is Whitney and I'm starring in a reality show on MTV and living with my friend whose parents used to be on "thirtysomething") to Dallas, then from Dallas to Birmingham, and when my people picked me up from the airport, Alex shared three pieces of very important news.
1) He had his picture made with Santa yesterday.
2) He moved the fish ornament from the tree in his bedroom to the tree in the living room because he thought the fish looked "too much like a girl."
3) He has a loose tooth.
That last one just killed me, by the way. His first loose tooth. He's been waiting on it forever, and it finally happened. So if you'll excuse me, Mama here is gonna go stick her nose in a plastic tub of baby clothes and remember WHEN MY BABY DIDN'T EVEN HAVE TEETH.
Hope your week is filled with exit row seats, a cute dress, and hair that's exceedingly, abundantly more than you can ask or imagine.
The end.