I wasn't kidding about overdoing it on the chips and crackers.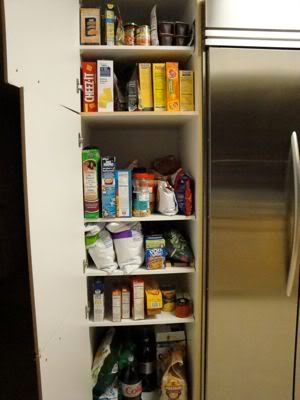 Oh, it looks harmless enough at first. A few two-liters of Cokes, some Veggie Sticks, a bag of tortilla chips, an economy-sized Cinnamon Toast Crunch.
But as you work your way up the shelves, you start to notice a the abundance of All The Chips & Such.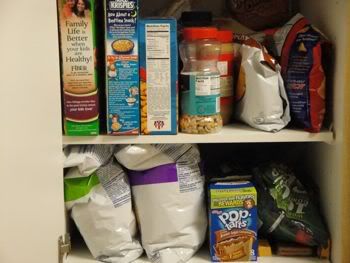 What you can't see are the new Lay's Tangy Carolina Barbecue chips – have y'all tried them? They sneak up on you with their tastiness. Because at first I was all, "I don't really think I like these," and then within five minutes I had developed a WHITE HOT CRAVING for that chip and that chip only.
Imagine that you cross a regular barbecue chip with a salt & vinegar chip. That is the tangy barbecue chip. And oh, it is tasty.
And by the way, that's a bag of Peppercorn Ranch Sun Chips on the bottom right. It's on the edge of the shelf so that it doesn't make quite as much racket when you're reaching for something else.
I LOATHE THE SUN CHIPS BAGS.
And finally, our cracker collection.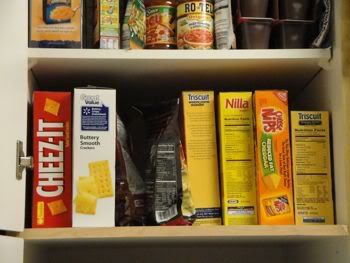 The Chex Mix, mini-Nutter Butters and mini-Oreos are behind all of the crackers. We think it's better to keep the more nutritional offerings – like, you know, Nilla Wafers – front and center so that we can make smart food choices.
But in our defense, we have really cut back on our Cheez-It consumption this year. And please make sure you notice that Paige's Cheese Nips are reduced fat.
Or as we like to call them: health food.