I've never been to St. Louis before. I've visited other places that the Mississippi River calls home – New Orleans, Baton Rouge, Vicksburg, Greenville, Memphis – but somehow I've missed St. Louis. Even still, I've always liked to think that, if we ever got to meet, St. Louis and I would probably be friends.
Well.
Today I made my inaugural trip to St. Louis so that I can tend to some bloggy bidness for AllAccess this weekend. And after I checked in my hotel and realized that I had a few hours to kill, I decided to go for a little walk outside among all the nature.
I'm happy to report that St. Louis didn't disappoint. In fact, I am sort of smitten.
The first thing on my agenda was to head down to the riverfront so that I could check out that arch thing that I've heard about FOR MY WHOLE ENTIRE LIFE. And do you know what? The Arch is tall, y'all. I really had no idea, perhaps because my primary frame of reference for what the Arch looks like is that scene from National Lampoon's Vacation when the Griswold family arrives in St. Louis. So clearly I have a done a lot of serious and academic Arch-related research.
Anyway, I took a bunch of pictures because I was all by myself and I'm a sucker for a bright blue sky. The sky was especially pretty today. In fact, I think the sky must also like St. Louis a lot because it was really putting on a show.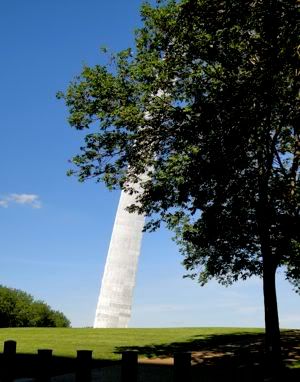 I didn't ride up to the top of the Arch because I was wary of getting into the tram/diagonal elevator thing. I mean, what if I was overcome with claustrophobia or acrophobia or archophobia and then suddenly a group of strangers felt like they needed to offer me comfort? Granted, I've never been particularly phobic (except where scaly textures are concerned, and I'm not entirely sure that particular fear has a name), but since I didn't have the benefit of a companion who could be appropriately co-dependent where my potential for some random onset of some random phobia was concerned, I elected to stay put on the ground.
I'm sure you understand.
Last thing.
A few hours after my walking tour I accidentally locked myself out of my room (I don't know why I felt the need to specify that it was "accidentally" – because does anyone really ever lock themselves out of a room on purpose?), so I went down to the front desk to ask if they could give me another key to the room. As it turned out, they couldn't give me a key unless I could show them a photo ID, but of course I couldn't produce a photo ID since it was LOCKED IN THE ROOM.
Funny how that works.
Anyhoo, while I was waiting for a manager who could escort me back to the room and let me in, one of the guys working at the front desk said, "So. How are you handling this heat?"
And I was all, "What heat?"
And he was all, "Oh my – it's never been as hot as it is right now."
And I was all, "I live in Alabama. This weather feels like a delightful spring day. I mean, I went FOR A WALK. OUTSIDE. AND DIDN'T SWEAT."
He was stunned.
And then he said, "You mean, it's worse than this where you live?"
So for the next five minutes, I told him Southern Heat Horror Stories. I told him about walking outside at 6 in the morning and feeling like you're colliding with a wall of steam. I told him about 86 degrees and 98 percent humidity AT NIGHT. I told him about summers in Baton Rouge.
(To be fair, I didn't tell him about New Orleans because I didn't think he could handle it.)
(Plus, when it comes to describing the heat of New Orleans during the summer months, I honestly struggle to find the words. I just know that it completely saps me of any desire to 1) move and 2) live.)
The good news is that, by the end of our conversation, the front desk guy seemed to have a renewed appreciation for the weather here in St. Louis. The bad news is that I don't think he'll be visiting the Deep South anytime soon. What with me scaring him to death with all the talk of the unbearable heat.
And that's what I did today.
Spreading peace, love and climate-related fear,
Me