Late this afternoon I went to the DSW to kill some time (and to try on some flip-flops that Megan recommended) before I met David for supper, and after about 15 minutes in the store, I started to shake my head and giggle.
Because seriously? WHO CAN WEAR THESE FOR MORE THAN SIX MINUTES?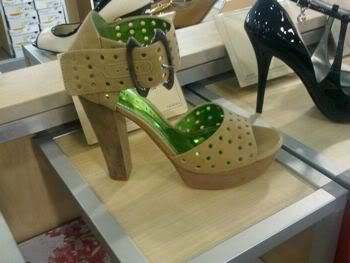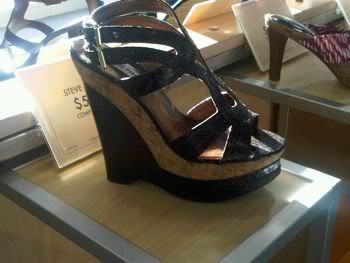 They're just perfect for an afternoon of chasing kids around the park or the pool, don't you think?
And please don't get me wrong: I'm all for a cute wedge or a kicky heel. But if I wore any of those shoes? I'd only be about four quick steps away from a broken ankle.
Now I realize that there are some darlin' women who are running around this summer in some gravity-defying heels (or as I like to call them: stilts), but Mamaw here needs some arch support. I can still handle a sensible (and dare I say sassy) wedge like this one –
– but if my foot has to deal with a shoe that has more than about a 20 degree angle, I'm toast. I'll walk around in three-inch heels (and often do) as long as the base of my foot is on a level surface, but as far as wearing shoes that require a steep incline? OH NO MA'AM.
The good news, however, is that my time at the shoe store was not for naught. Because I rediscovered an old friend.
I didn't buy them, mainly because when I tried them on I had flashbacks of a time when my days consisted of listening to Hootie & The Blowfish and watching the first season of "Friends" and wearing those pleated palazzo pants from The Limited that came in either solid colors or – SHIVER ME TIMBERS – earth-toned floral patterns.
It's not necessarily a fashion era that I care to revisit. Purely for personal reasons, you understand.
But there's no question that for sheer comfort, Birkenstocks can't be beat. I'd forgotten how they're supportive in all the right places. Well-made. Dependable. And you know what else? I think they're due for a comeback.
So, just because I'm curious (read: nosy) and because nothing will delight me more than looking at and thinking about shoes all day, let me ask you this: what are your most favorite, most comfortable shoes in the whole wide world? Leave a link if you want. And if your most comfortable shoes are some sort of stiletto-ish wedge, then please know you have my envy and my undying admiration.
My flip-flops and I just think the world of you.