So for us the second round of Christmas really got cranked up this afternoon when Sister and her hubby rolled into town. They'll be here for a couple of days, so that means lots of Xbox for the boys and lots of Steinmarts for the girls. And lots of Starbucks for all of us, of course.
Amen.
Alex had big fun during Christmas '09, and he's spent a chunk of the last three days playing with some new favorite toys.
I have no idea what the appeal of that iCoaster thing is, by the way, but he cannot watch the marbles roll down the track without jumping up and down and up and down and up and down.
The marbles! They're very exciting! Apparently!
By the way, I pulled all of these pictures off of my daddy's camera, and for some reason when I popped the memory card out of his camera and put it in my computer so that the pictures could download, I felt a wee bit like Sydney Bristow. And I wished for just a second that I was wearing a wig and some sort of funky cocktail dress. Because if memory serves, whenever Sydney Bristow used someone else's memory card to download information, she always seemed to be wearing a wig and a funky cocktail dress. And I realize that I didn't necessarily need a disguise in order to successfully download pictures from my daddy's Kodak Easy Share camera, but still. It's always fun to think of practical, everyday uses for the wig/funky cocktail dress combo.
Anyway.
Mama and Daddy have been here since Christmas afternoon, and we have loved having them here. Daddy actually offered to go to the grocery store this afternoon and pick up steaks for our supper tonight, and since our grill is currently a little temperamental, I cooked the steaks on the stove. I used Ree's method with my cast iron grill pan, and I don't think my range fan has ever gotten a bigger workout.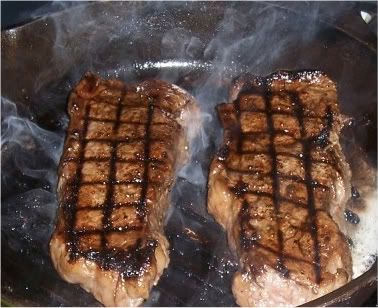 There was some sizzle in that pan.
But every single bit of the charred beef smoke was worth it, because the steaks were deeee-licious. Now the kitchen is all clean and splatter-free, and everybody has gone to bed except for Sister and me. She's drinking her third or seventh cup of coffee while we watch the end of the Music City Bowl, and I'm waiting for a video to finish uploading. THE EXCITEMENT NEVER STOPS.
So that's about all the Christmas news from our little neck of the woods. Lots of family fun in store. Plenty of football and basketball games on the horizon. A six year-old who's convinced that this was the BEST CHRISTMAS EVER.
And a house that smells like Western Sizzlin'.
God bless us, everyone.