Dear Alex,
You turned seven years old yesterday, and I think you were just a little bit excited about it. I say that because last week we were in the check-out line in Hobby Lobby, and as I was paying for my stuff, you sighed, then ever-so-casually looked at the cashier and said, "Gosh. I can't wait until it's my 7th birthday this Sunday." You know, totally laid-back. Mr. Cool. Shootin' the breeze. You stopped just short of putting your elbow on the checkout lane and resting your head on your chin.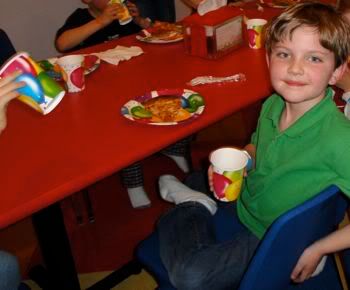 Cute thing.
Right now you love to read a whole bunch, and it cracks me up that you read with GREAT! EXPRESSION! I can't imagine where you inherited such a quality. It certainly didn't come from me, THE PERSON WHO LOVES TO USE CAPITAL LETTERS WHEN SHE WRITES. You also love soccer practice, Mississippi State (your Pappa is so grateful for that and is forever giving you Bulldog-themed gifts), Skittles, mazes, Super Mario Bros., rollercoasters, church on Sunday nights and Wednesday nights, any type of meat, cheese grits, baby lima beans, the library, Chipotle, shortcuts, singing loudly in the car, and riding to school with Daddy and Ally. Your best buddies are Luke and Brooke, and you still miss Corbin a lot. Hopefully we'll get to visit him in Texas soon.
You're so good-natured and fun to be around, but when you don't like something, you mean business. You openly oppose broccoli (unless it's in the broccoli cheese soup at Jason's), shopping, asparagus, carrots, crafts, roaches, crafts, "girl stuff," and crafts. Did I mention that you don't really care for crafts?
You are wild about our extended family, and you pray for them almost every night. You think all of your grandparents hung the moon, and when you and Daddy were at my parents' house a couple of weekends ago, you walked into their living room, looked at your father, and said, "Daddy? Could you please leave and give us some privacy?" You just adore them. It's one of the great joys of my life.
Over the last few months I've caught myself looking at you and wondering how it all happened so fast – how the chubby-cheeked toddler who bounced up and down to Elmo songs is now such a long-limbed, confident little man. You do your homework without any prompting from me, you feed and walk the dogs, you run your water and take a shower and dry your hair and put on your pajamas. And then you wake up in the mornings and turn on music in the kitchen and sing your heart out while you eat breakfast. You are always – ALWAYS – tickled to death about going to school. And you like to be early.
That's my boy.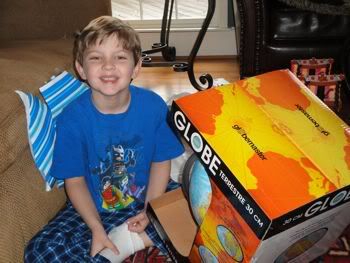 A month or so ago I ordered your first suit for a wedding you're going to be in this summer. When UPS delivered it I asked you to try it on right away, and seeing you in that grey seersucker suit just about did me in. You just looked so big, and as I checked the length of your coat sleeves, I found myself fighting back tears. It wasn't because I'm sad that you're not little anymore; it was because I'm so proud of who you're becoming. Your daddy and I don't just love you – we like you so much. You're honest, tenderhearted, outspoken, friendly, hard-working and funny. You're more than we ever imagined.
Happy 7th birthday, sweet little man. Life is so much better with you in it.
Love,
Mama