So at the beginning of last week, when I was in the throes of a condition called The NCAA Selection Committee Has Angered Me, I decided that a trip to Starkville for the first round of the NIT was just what the basketball doctor ordered. Since my friend Emma Kate and her family were also going, we coordinated our plans and worked out a way that we could ride together to the game.
As soon as we got to Starkville, we went to Little Dooey for supper. If you're not familiar with The Dooey, you'll just have to take my word that they have great BBQ and deeeeee-licious fried catfish. I actually meant to take a picture of my catfish plate, but unfortunately my fork involuntarily swooped down to the food before I could pick up my camera. And I could hardly blame the fork, because oh my word at the tastiness. Such a treat.
After we ate, I snapped a picture of two of my very favorite people in the whole wide world.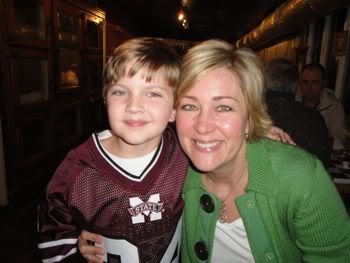 By the way, Alex adores "Miss Emma Kate." So does his mama.
After supper we drove over to the coliseum, and we walked in right about the time that the Bulldogs were taking the floor for warm-ups. State fans are a loyal bunch, you know, and between the way the Kentucky game ended and the NCAA tournament snub, there was no question that we would rally behind our team – which is why our boys got standing ovations at the beginning and end of warm-ups. Bless their hearts.
And they had two dedicated little fans waiting to high-five them when they walked back to the locker room.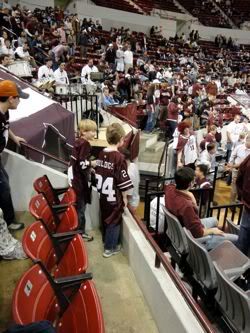 That's EK's younger son with Alex. The matching #24 football jerseys weren't planned, but somehow they seemed fitting since there were many, MANY days in college when EK and I wore eerily similar hair bows. Not to mention that we both enjoyed extensive collections of novelty sweaters.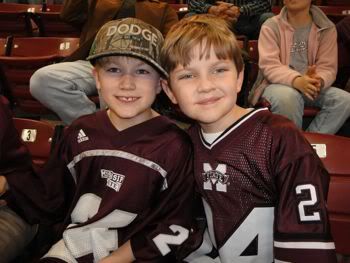 They're our mini-me's.
(Listen. I went back and forth on using an apostrophe to make the word "me" plural. BACK AND FORTH. But somehow "mes" looks all wrong. Hence the extraneous apostrophe for clarity. I DO APOLOGIZE.)
We had a fine time at the game (we won! we won!), and even though it was almost midnight when the game was over, we stayed until the bitter end because that, that is what I do. It's who I am. Whether we're winning 100-14 or losing 56-3, I will not leave a sporting event until the final buzzer has sounded because WHAT IF I MISS SOMETHING IMPORTANT, THAT WOULD BE TERRIBLE.
Our original plan was to spend the night at EK's on Tuesday night and then head back to Alabammy, but one night was so nice that we decided to stay two. We got to catch up with some of our sweetest friends and spend an inordinate amount of time in EK's orange chairs.
The orange chairs are a happy place. Problems get solved there.
We drove home Thursday afternoon, and I've been in Official Nesting Mode ever since. The combination of the blue skies and the buds on the trees has put me in the mood for spring cleaning and all that goes with it. We've spent the last part of spring break with the doors open and lots of kids running through the house. I refilled the bird feeder and don't even care (yet) that the squirrels will be attacking it within a couple of days. We've watched a whole lot of basketball, tackled some organizational ish-ahs that had been driving me cuckoo, and laughed more than we deserve.
It's been so good.
Even if the Bulldogs lost to North Carolina in the second round of the NIT.
But we won't talk about that right now, lest we spoil all the spring break goodness.
Hope your week was filled with goodness, too!