Our nine year-old leaf blower quit working at some point during the winter, and after a couple of attempts to resurrect it by replacing parts, D realized that the engine was cracked. I didn't realize that was a big deal because I figured you could just seal it up with some duct tape or something. As you may have guessed by now, I'm a bit of an expert in small engine maintenance and repair.
Once D realized that Old Faithful was going to have to be replaced, he started researching his options. After much thought and comparison and prayer, he decided to go with an electric leaf blower instead of a gas-powered one because 1) it was cheaper 2) it had some vacuum-attachment thing-y that mulches leaves and 3) it got good reviews on Amazon. So basically it was a power tool trifecta.
This past Saturday morning D went to Lowe's and bought the new leaf blower. Since we already owned an extension cord that's approximately the length of a regulation-sized football field, as soon as he got home and took the leaf blower out of the box, he was in business.
Imagine, if you will, his joy. I daresay that it was palpable.
I walked outside in the midst of the new leaf blower's introduction to our driveway, and as I looked at the box that was still on our front porch, I got a little tickled. Because somebody in Black & Decker's marketing department knew exactly what they were doing.
Oh, it looks innocent enough.
But this B&D box offers some none-too-subtle Man Bait.
First of all, it's a LeafHog. I have no idea what that is, mind you, but it sounds menacing. It certainly
seems
like a LeafHog would be bad news for leaves, doesn't it?
It also seems like there would be no small degree of snorting.
Next, it's a LeafBlaster
TM
. Not just a mover – not just a blower – a BLASTER.
Frankly I don't know how any man could resist this product, because inherent in the LeafBlasterTM designation is the possibility that SOME LEAVES MIGHT EXPLODE.
And if the hogging and the blasting weren't enough, this leaf blower also has an Anti-Clog Vortex. CONSIDER IT SOLD.
By the way, when I saw "Metal Impeller," I thought that was bound to be a French term – you know, a friendly translation of "Anti-Clog Vortex" for our European friends.
But no. No. It's actually English. And I know that to be true because I googled it.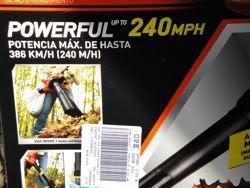 And that's not all, my friends. It's also POWERFUL UP TO 240 MPH.
At first I was puzzled by this claim, because as far as I know a leaf blower is not intended to be used as a small aircraft. But then I realized that it can blow leaves at a force of up to 240 MPH, thereby rendering this model of leaf blower irresistible to anyone with a Y chromosome. Even my own husband said, "THIS THING IS FOUR TIMES AS POWERFUL AS DAMAGING WINDS."
Man Bait. Plain and simple.
I rest my case.