We spent the weekend in Mississippi, and for most of Friday afternoon and Saturday morning, our primary activity was Dodging Storms. The weather was absolutely terrible, but fortunately we avoided the worst of it. I am pretty fearless when it comes to bad weather as long as I'm sitting in my house, but if you put me in a moving vehicle in the midst of pelting sheets of rain, I will go all mashing-on-my-pretend-brake-from-the-passenger-seat on you. It's a little annoying for the person who happens to be driving, but I for one find great comfort in my panicked behavior.
Friday night we had a great supper with my parents, my aunt C, my cousin Paige and her little boy Joseph. There was fried chicken, deviled eggplant (I will share the recipe later this week because IT. IS. DIVINE.), butterbeans, seven-layer salad, cornbread and banana pudding, and every single bit of it tasted like home. It was actually very special to be reunited with the seven-layer salad; I made it so often when David and I were first married that I burned out on it, and I honestly don't think I've had it in about ten years. But oh, now that I remember its deliciousness I will be making it again very soon, and it will be my sweet privilege to serve it so frequently that I burn us out on it all over again.
Hi. My name is Sophie. From time to time I get in food ruts. It's lovely to meet you.
After supper we sat around the table for about an hour, talking about who's getting married and our favorite vegetables and whether or not Chinese chicken salad is a suitable entree' for a bridesmaids' luncheon, and out of nowhere Mama mentioned how she's just sick and tired of everybody dying. And the thing about death is that it's not really one of those things where you can just get fed up and take action. I mean, if you're sick and tired of not being able to find your favorite brand of hair spray, you can usually do something about it. You can call a drugstore or talk to the person who cuts your hair or something. And if you're sick and tired of not being able to get your favorite mashed potatoes on the Golden Corral buffet, well, you can take that up with the manager.
But if you're sick and tired of death – well – that's not really an issue where you can do much to effect change.
Anyway, Mama's statement led to a back-and-forth between her and C that might as well have been titled "People We Know Who Have Died," and after they'd named about six or seven people, Mama said, "You know what really made me sad? When my friend Margaret died. I just couldn't believe when that happened two weeks ago. Or a month ago. Or six weeks ago. Or three months ago. Or whenever it was."
About that time David piped up from across the table and said, "So what you're telling us is that at some undetermined date within the last two days or two weeks or six months, your friend Margaret passed away?"
"Why yes, that's exactly right," Mama replied. And we all got very tickled. Mama's recollection of the specific details wasn't really the point, I reckon.
Saturday morning we left the house pretty early to drive to Jackson for the christening of David's goddaughter. Our friends Todd and Marti had a little girl named Gracie back in December, and since they live in California, we were way past ready to finally see Miss Gracie in person. In fact, when we got to Todd's daddy's house Saturday morning, I may or may not have snatched her from her daddy's arms and completely monopolized her for approximately one hour. But I couldn't help it. She's four and a half months and at that stage where she's just a chunk of love who likes to smile and stare. I could've gnawed on her cheeks all days long.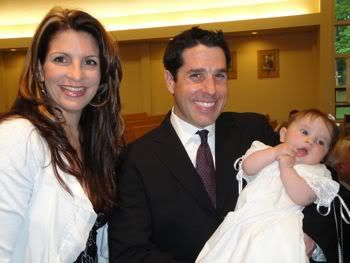 GNAWGNAWGNAWGNAWGNAWGNAWGNAW.
We hung out at Todd's daddy's house for a few hours after we finished with everything at the church, and it was so fun to visit with the families and watch all the kids run around and marvel at how quickly the time flies and yes, I know that's a total cliche', but do you know why it's a cliche'? BECAUSE IT'S TRUE.
It was the sweetest, best day.
After the worst of the storms had passed, we drove back to Mama and Daddy's, but I can't tell you about any of that right now because it's almost midnight and my eyes seem to be closing involuntarily. So just know that I'll be back later to tell you about a giveaway that I think you'll love. Not to mention the tales of even more food and – get ready – Sissie's 100th birthday party.
Yep. You read that correctly. We celebrated Sissie's ONE HUNDREDTH birthday.
It was a big weekend, you know?
See y'all in a little while.