Mamaw here wants to talk about flowers.
Because right now, before the dog days of summer hit and everything gets leggy and peaked and wilty, I am just a wee bit obsessed with flowers.
And plants. I'm a wee bit obsessed with them, too.
So here's what's going on around our house right now.
Our Home Depot had huge palm plants on sale for cheap dollars and thrifty cents, and D picked up a couple of them last weekend. We put one of them on our deck, and I love how the wispiness of the fronds contrasts with the bulkiness of the stalks.
By the way, that last sentence is a sure sign that any remnant of my early 20s self is officially GONE FOREVER.
Because in my early 20s I'd have been all, "What? I don't get it. Looks like a big green tree to me."
And then: "I think plants are, like, STUPID. Because you have to take care of them and stuff."
Oh, yes. I WAS A TREASURE AND A DELIGHT.
Anyway. These lilies – oh my goodness. They smell divine. They light up my life.
(Sing it with me: "Wiiiiiiiiith sonnnnnnnnnnnng.")
I mean, just look at all that pretty.
Then there's hibiscus – one of my all-time favorites.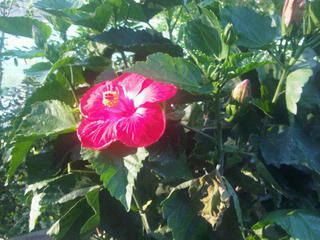 And mandevilla, which I've never had before but am LOVING. My fellas gave me two big mandevillas for Mother's Day, and they have grown by leaps and bounds since D planted them. Can't wait for them to fill up the trellises. I'll probably just sit and sing to them until that happens.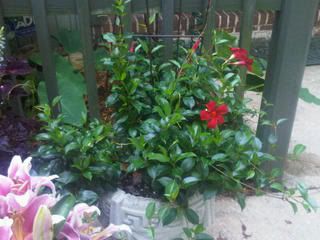 And by the way, I should point out that my husband is the one with the green thumb in our family. He takes such great care of our flowers and plants. I just point and tell him where I want everything to go, and then he makes it happen while I gaze at impatiens blooms and drink a diet Coke.
So what about you? What have you planted this year?