Every once in awhile I just need to purge my brain of a bunch of unrelated information. It helps me control the crazy.
So, that being said, I apologize in advance for the disconnected randomness that's about to happen.
It might be best to just nod your head and pretend like it all makes sense.
– TJ Maxx has really stepped it up with their selection of lamps.
– In the last few episodes of "The Hills," Justin Bobby's hair looked like Prince during the "When Doves Cry" era.
– Zaxby's chocolate milkshakes are delicious.
– I think these kelly green shoes are adorable. But I wonder if I could ever incorporate them into my daily fashion routine.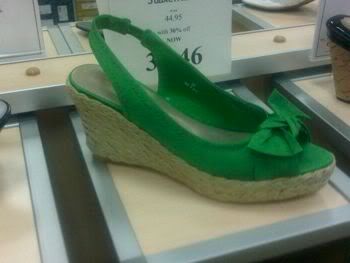 Thoughts?
– The CMT Crossroads with John Mayer and Keith Urban is Music Happytown, and everybody needs to visit. I LOVE IT.
– Football season starts in six weeks. This is excellent news.
– I read an interview with Simon Cowell the other day. He said that he wouldn't be surprised if Harry Connick, Jr. is the new judge on American Idol next year. DO WE DARE TO DREAM?
– David Crowder Band's "Oh, Happiness" has become our theme song for the summer.
– I haven't seen any of the Twilight movies. And I'm one of seven people currently residing in the US who still hasn't seen The Blind Side. So I'm pretty sure that I'll be asked to leave the country soon.
– Last night, right after I started putting the bedroom back together again, Alex told me that he was proud of me for finishing with painting. Then he said, "You know, Mama, I'm SO proud of you that I think I may have to cook you breakfast in the morning."
And then: "But Mama? I don't really know how that would work out since I can't cook."
Bless him.