When we moved in this house we put our bed in front of the windows in our bedroom.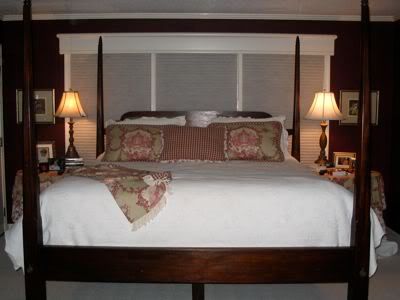 I liked the set-up for several reasons: 1) you were facing the foot of the bed when you walked in the room 2) the leaves or branches or whathaveyou looked really pretty as a backdrop when the blinds were open and 3) I didn't have to worry with hanging anything above the headboard.
Because here's the thing: I'm no good at hanging stuff. It stresses me out. I feel like I never know what to hang, and then when I finally figure it out, I have no idea if I'm hanging it too high or too low or if the thing is too big or too small. Are the colors too bright or too subdued? Do I need a grouping or is the one thing okay?
The choices, they overwhelm me. Which is why I typically just stare at the wall for 15 minutes, then fix myself a diet Coke and some Cheez-Its and settle in for an episode or four of House Hunters.
And yesterday, I spent a good portion of the afternoon walking in the bedroom, staring at this, and then walking away.
The bed is on a different wall now, mainly because we can use the space in the room so much better when the bed's not hanging out by the windows. But oh, all that wall space – it intimidates me. I keep thinking that maybe a grouping of plates would look pretty there (all my favorite home decor bloggers are wizards with wall groupings of plates and platters), but I don't really have a collection of plates and probably wouldn't know the right way to hang them if I did.
I know that I could get a big canvas and let everybody pitch in and paint it and then hang it there, but we've sort of run that route to death in our house. I love the clean look of the new pillows and stuff, but because they're not quite as overtly traditional as what we had, I can't seem to figure out my decorative direction.
So.
Plates? Platters? A photograph? Sconces? A wagon wheel? An old chair?
I'm only sort of kidding about those last two things.
Because I'm very desperate.
The end.