This is sponsored content by BlogHer and Kelloggs.
As much as I may occasionally get frustrated with the NON-STOP RELENTLESS HUMID during the summers here in central Alabama, I really do treasure the time from May until August. We try to pack as much as we can into the weeks when we don't have to be on any set schedule, and I pretty much revel in our freedom. It may be hot as all get out, but it really is the most wonderful part of the year.
For the last few years we've wrapped up our summer vacation with a trip to the beach. This is a special beach trip because we go with my cousins and their kids – and this year my sister-in-law and nephews joined us, too. It's probably the only time all year when we have wide-open, uninterrupted patches of time to visit and cook and laugh and play. And since there's no hectic holiday craziness surrounding us, we really do relax. Granted, it's a special brand of relaxing that requires adjusting to the sound of many very loud children, but the whole trip is so laid-back that it doesn't even matter. It's just a joy.
This year, on our last night at the beach, the kids did something they've never done before: they organized a massive hide-and-seek game. We made all of the big kids responsible for at least one of the smaller kids, and then we opened the door and let them hide (and seek) all over the lobby area of our condo building (it's not a huge area, so we knew we could keep an eye on them). They'd play a round, come inside for freshly-baked chocolate chip cookies, play another round of hide-and-seek, come inside for another round of cookies – and so it went for almost two hours. Every once in awhile one of the grown-ups would walk outside the door to check on them, and we never had to look far; their laughter led us straight to them. It's a memory I think they'll keep forever – and hopefully a tradition they'll continue for years to come.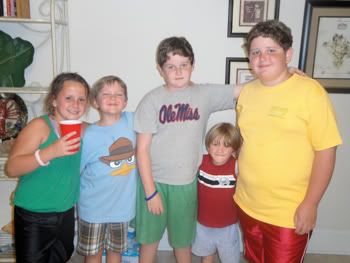 Even the youngest cousin – who's almost 4 – looked at his mama after the final game and said, "Mama, that was the funnin'-est time I ever did have."
So I think it's safe to say that the beach trip hide-and-seek was a hit.
So what about you? What's your favorite thing to do with the kids in your life during the summer? Leave a comment with your answer, and you'll be entered to win a $100 Visa gift card (and come back next week to enter again – because these giveaways will continue for the next 11 weeks).
And be sure to visit the BlogHer.com Kellogg exclusive offers page – you have 24 other chances to win $100 every single week that this program is running! Here are the official rules.
Mom's Breakfast Club was started to help educate moms and families about kids' cereal and share the scoop on their nutritional benefits and ingredients. To learn more about the program, visit www.loveyourcereal.com.
This giveaway is now closed.