This is sponsored content by BlogHer and Kellogg's.
About a year and a half ago I decided – I made a resolution, even – that I was going to serve a hot breakfast in the mornings. It's something that my mama always did for us when I was growing up, and there's something about sitting down to a table where there's bacon and toast and cheese grits (we're in Alabama, remember) that just feels like home. It's comforting. I even think that it forces you to slow down and really enjoy what you're eating, because eating that particular line-up of breakfast food in the car really isn't an option.
Perhaps this is why you don't usually see "cheese grits" on the drive-thru menus of your various and sundry fast food chains.
For the most part I've been successful with fixing a hot breakfast. It means that I wake up about 15 or 20 minutes earlier in the mornings than I would otherwise, but it also means that we make time to sit around the table before we start our day. That alone makes the earlier wake-up time worth it.
But some days – and I'm betting you've had these kind of "some days," too – we just can't get our act together. Maybe we oversleep. Maybe a certain mama forgot to transfer the previous night's laundry to the dryer and finds herself running all over the house trying to round up some clean clothes. Maybe the sight of the full dishwasher discourages that same certain mama from pulling out even more pots and pans from the cabinet. Or maybe we're just craving something easy.
Regardless, when I need a simple, no-hassle breakfast, there's no question that cereal is our go-to choice. Sometimes, especially when I've been on a hot breakfast streak for a couple of weeks, I put cereal in our bowls, stare at it, and think, "Well, that took four seconds." And because it's not something that we eat every single day, the unexpected cereal option is always greeted with great enthusiasm in our house. Especially if these two cereals happen to be in the rotation: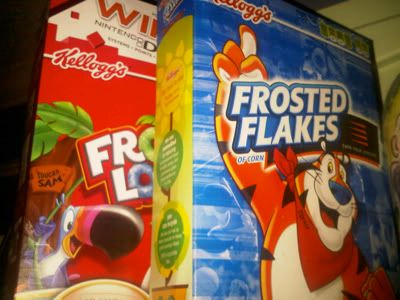 Seriously. What is it with the Froot Loops and the Frosted Flakes? I don't think I've ever known a child who didn't love both of these cereals deeply and completely and who wasn't completely enthralled by the toys on the back of the boxes. Whatever the reason, I am all about it. Because if we're in a hurry, those big boxes of cereal make feeding my people a whole lot easier, especially when I'm trying to find a missing shoe and fill out a form for PTO and pack something for snack time and get everybody out the door.
So what about you? What are your favorite quick and easy breakfast options? Leave a comment with your answer, and you'll be entered to win a $100 Visa gift card (and come back next week to enter again – because these giveaways will continue for the next 8 weeks).
And be sure to visit the BlogHer.com Kellogg exclusive offers page – you have 24 other chances to win $100 every single week that this program is running!
Mom's Breakfast Club was started to help educate moms and families about kids' cereal and share the scoop on their nutritional benefits and ingredients. To learn more about the program, visit www.loveyourcereal.com.
This giveaway is now closed.