The little man and I went to Nashville to see Sister this past weekend. The drive from Birmingham to Nashville is my ALL-TIME FAVORITE EVER, so I was a wee bit giddy when we hit the road Friday afternoon and I knew that I was going to spend the next three-ish hours heading north on I-65. It was the first time we'd been to Nashville since March, I think, and we were way overdue for a visit. NASHVILLE, WE'D MISSED YOU TERRIBLY.
Some of y'all may remember that Sister and B had to tear the first floor of their house down to studs after the Nashville flood this past spring. They lost everything that was downstairs (with the exception of a few keepsakes they managed to move upstairs before they evacuated), and they just moved back into their house a few days ago. The new and improved first floor is absolutely beautiful – and now it needs furniture.
I don't know exactly how many hours we spent looking at rugs and tables and chairs and accessories this past weekend, but WE PUT IN SOME TIME. We found some gorgeous rugs at super-reasonable prices (Home Goods, I adore you), along with some great-looking dining room chairs on sale (World Market, big hugs to you, too). Sister has a good sense of what sort of look she's going for, and I took some "before" pictures this weekend so that I can show you how everything comes together over the next few months. I think it's going to be classic and eclectic and modern and fun. In other words: very Sister-y.
As an added bonus to our weekend, the MSU/Georgia game was on TV Saturday night, and we had a blast screaming for our Bulldogs. OH MY WORD WE HOLLERED. You probably heard us. We spent most of the first half screaming, "WHY CAN'T WE TACKLE?" and most of the 4th quarter yelling, "WE GOT A FIRST DOWN! WE GOT A FIRST DOWN!" Since our husbands weren't there with us, they were spared the spectacle of us screaming at the TV like a couple of real-live contenders in a hillbilly 'coon-callin' contest. Not there's any such contest, of course. But if there were, I think we'd bring a lot to the 'coon-callin' table – what with the sophisticated tenor of our understated elegance.
As I'm sure you can imagine.
Anyway, Alex and I got home tonight, and I'm already planning a return trip. Because when you leave Home Goods with the car looking like this –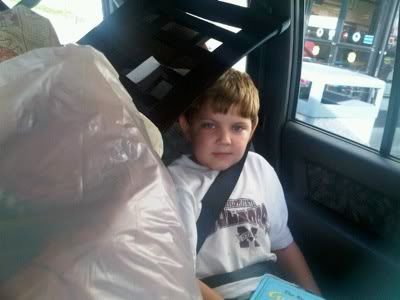 – at some point you've got to figure out where all that stuff is gonna go.
By the way, when we were in TJ Maxx I saw a pair of boots that I thought were really cute, and I took a picture of them so I could show them to Melanie.
On a whim I turned over one of the boots so I could check out the price, thinking that they were so pretty that they probably cost $80 or $100.
Well.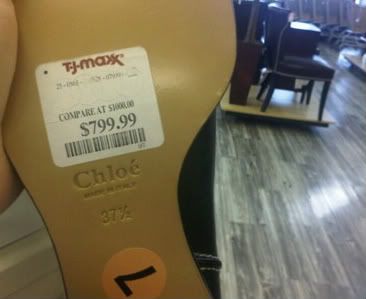 You'd better know that I dropped that boot like a hot potato. Because EIGHT HUNDRED DOLLARS?
Since when did TJ Maxx get so fancy?
And who pays $800 for boots?
And if you pay $800 for boots, do you actually walk in them? Or do you put them behind a glass case and admire them from afar, LEST YOU SCRATCH THE PRETTY LODEN GREEN LEATHER?
Obviously I have some questions.
How was your weekend?