When I was a little girl, I loved to play in my mama's make-up. I'd sit in front of her magnifying mirror and put on eye shadow, rouge, powder, lipstick – and then I'd take all of it off with her Merle Norman cleansing cream. I have vivid memories of all of Mama's make-up brushes and compacts and skin creams, mainly because practicing Seventeen magazine's easy eye-shadow tricks with the mini-Merle Norman store in Mama's room was one of my favorite things on earth.
Plus, all that frosted baby blue and leaf green eye shadow wasn't going to apply itself, now was it?
This past Saturday the little man and I made an unexpected trip to Merle Norman with Sister because she needed to buy some of her beloved loose powder before we walked over to TJ Maxx. I hadn't been in a Merle Norman store in about ten or fifteen years, but I am here to tell you that as soon as I stepped through the door, it was SENSORY MEMORY OVERLOAD. It took me about five seconds to get my bearings, and then I made a beeline for the display case of powder base and said, "Alex! Come here! This is the smell of Mama's childhood!"
What? You don't walk into a cosmetics store and then enthusiastically ask your child to smell a container of foundation?
Well, you have no idea what you're missing.
And let me tell you: that powder base took me RIGHT BACK to 1983. Before I knew it I was singing Duran Duran songs and tying a big lace sash around my head.
Before we left I saw a bunch of other products I hadn't thought of in years: cleansers, toners, masks – you name it. I saw the cream that Mama used to slather on her face every night before bed and could instantly remember how it smelled. I'm telling you: I was flooded with memories. And just as we were about to leave, I looked over at the check-out counter and saw these: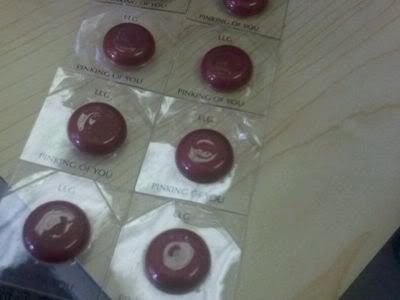 OH SWEET MERCY THE LIPSTICK SAMPLES. I can't tell you how many times I pulled out Mama's gold lip brush (it was retractable! and fancy!) and opened up one of those little blister packs. In fact, I had so many of them (thanks to sweet Miss Sara, the lady who owned the Merle Norman in my hometown) that I probably didn't own a real tube of lipstick for the first two years after I started wearing make-up. I'd forgotten all about them until Saturday, but as soon as I saw them I remembered how much I used to adore them. And I told myself right then and there that the next time I need some make-up, I'm going to go to my local Merle Norman store.
Because if I buy some powder? THEY'LL GIVE ME FREE LIPSTICK SAMPLES.
The thrill of free never dies, does it?
What about y'all? What products or smells stir up all sorts of happy childhood memories for you?
If you'd asked me last week, I'd have said "Mentholatum" in a New York minute. With Dial soap, Mama's White Rain hairspray and a big ole jar of Noxzema as distant runners-up.
But no kidding: Merle Norman totally trumped the Mentholatum.
That is no small feat, my friends.