This is sponsored content by BlogHer and Kellogg's.
When I was younger, I always thought I'd grow up to be a pancake mom. You know, the mom whose family woke up on Saturday mornings to the smell of bacon frying and made-from-scratch pancakes cooking on the griddle. Naturally I'd serve the pancakes with fresh blueberries and warm maple syrup, and it probably goes without saying that I'd be wearing a starched apron and a double strand of pearls as I lovingly served breakfast to a table of smiling, grateful people.
(I'm thinking that maybe all those afternoons I spent watching reruns of Leave It To Beaver on TBS may have left an indelible imprint on my hopes and dreams.)
(However, I am happy to tell you that I never bought into the notion that I should clean my house while wearing two-inch heels.)
(Sanity prevailed!)
And the reality, of course, is that while there have been some weekend mornings when I've cooked big breakfasts for my family – especially during holidays when our extended family is visiting – by and large I tend to take the weekend off from the hustle and bustle of getting breakfast on the table. We eat breakfast, mind you, but odds are it's going to be something that does not require me to turn on the stove and/or oven – something like cereal or peanut butter on whole wheat bread or, if we're out of town for the weekend, something like this: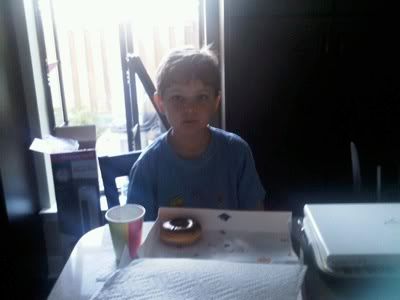 I know.
But to my boy's credit, he was not in fact about to polish off a half-dozen donuts when I took this picture. Granted, he can put down some original glazed, but six donuts in one sitting is not a part of his breakfast-eating repertoire, and for that I am grateful. Because quite frankly I don't think I'd have the foggiest idea how to harness the aftermath of a child who eats that much sugar before 8 AM.
So basically there's one word that describes our weekend breakfast routine: simple. And we love it that way.
What about you? What does a typical weekend breakfast look like in your house? Leave a comment with your answer, and you'll be entered to win a $100 Visa gift card (and come back next week to enter again – because these giveaways will continue for the next 4 weeks).
And be sure to visit the BlogHer.com Kellogg exclusive offers page – you have 24 other chances to win $100 every single week that this program is running!
Mom's Breakfast Club was started to help educate moms and families about kids' cereal and share the scoop on their nutritional benefits and ingredients. To learn more about the program, visit www.loveyourcereal.com.
This giveaway is now closed.