Most of y'all know that I love to cook. LOVE. IT. In fact, just thinking about the fact that the holidays are right around the corner makes me a wee bit giddy. Before I know what's hit me it'll be time to pull out all my food magazines and a big stack of Post-Its and GO TO TOWN marking all the new recipes that I want to try. It's my grown-up version of going through the Sears Christmas catalog and dog-earing all the toys that strike my fancy.
So given all of that, it's sort of a wonder to me that, up until a few weeks ago, I never owned a really good knife. I mean, I had knives, of course, and I used them, and I tried my best to sharpen them, but they were all pretty low on the quality scale. They were serviceable, though, so I tried to make the best of my sub-par kitchen knife situation – even when slicing potatoes reminded me of what it might be like if I tried to cut upholstery fabric with a butter knife. Not that I would ever do such a thing, of course.
Back in the summer I started looking at "good" knives – but it seemed a little extravagant to buy myself something so nice just because I wanted to have an easier time dicing our celery. So I put my knife dreams on hold – difficult though it was – and I figured that eventually there might be a holiday or a birthday when all my knife dreams would come true.
By the way, if you're looking for a reliable test as to whether you've actually crossed over into Officially Grown-Up territory, I think having dreams of a really good knife probably answers that question for you. In fact, just go ahead and let those knife dreams be your assurance that your days of immaturity are far behind you. BECAUSE YOU HAVE A WISH-LIST OF KITCHEN UTENSILS, YOU SEE.
Anyway, do you know what my people gave me for a birthday present this year? Do you know? Can you guess? Will you ever believe?
They gave me a really wonderful kitchen knife. The knife of my dreams, in fact. And for the record, that last sentence is absolutely the most lame thing I have ever written, and I FOR ONE COULD NOT BE MORE DELIGHTED.
I love my knife. I adore it. I look for excuses to use it. And the first time I ever sliced an onion with it, I realized that I hadn't actually been cutting things for lo, all these many years that I've been spending untold hours in the kitchen. I'd just been sawing. Sawing meat. Sawing carrots. Sawing sweet potatoes. But not cutting. Oh, no. I had completely missed out on the wonders of cutting and cubing and dicing and slicing.
All those things are glorious, by the way.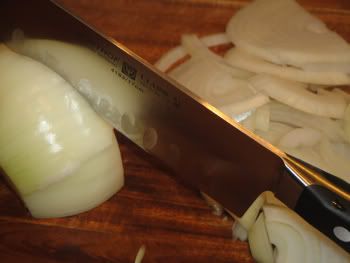 GLORIOUS.
(For the record, I wasn't using the knife when I took that picture. I stuck the knife in the onion, then took the picture. I just didn't want you to be concerned for my safety. Because I'm sure you would've lost COUNTLESS HOURS OF SLEEP if you thought I was using my knife improperly.)
(Also for the record: I make myself tired.)
It's such a simple thing: a good knife. And as someone who spends a whole lot of time in the kitchen, I can honestly say that it's made a world of difference. It's my new best friend forever (we're TOTALLY BFFs, y'all). In fact, I'm going to go check on it now. Just to make sure it's resting comfortably in its drawer.
So. What's your BFF in the kitchen? What's the one kitchen utensil you don't want to live without?