Yesterday was the fifth birthday of this here little blog. So I celebrated by making a stuffed pork roast, dressing, homemade gravy, squash casserole and strawberry pretzel salad.
Okay. So maybe that stuff was technically for Thanksgiving. And maybe nobody else at the table had the foggiest idea that the blog was having a birthday. But still. It was the best pretend birthday party that a blog could ever hope to have.
Mama's pecan pie didn't hurt.
Anyway, before Sister and I set out in search of some new Christmas ribbon for me and some new shoes for her, I just wanted to stop and make sure y'all know how deeply grateful I am for each one of you. Thank you so much for reading and commenting and emailing and putting up with my crazy. I've had big fun with you people for the last five years, and oh, I am thankful.
(insert powerful-yet-tender ballad here)
(preferably a duet with Phil Collins and the incomparable Marilyn Martin)
(preferably with a music video where someone rests his or her head against a wall while he or she sings with great emotion)
Here's to five more, sweet internet. Or at least one more. Because five more years seems like sort of a lot right now, and long-term goals stress me out a little bit.
By the way, here's what the little man looked like five years ago.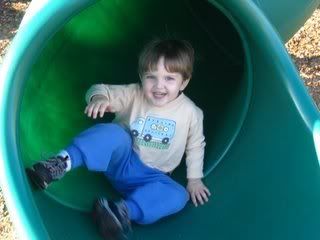 I think I just died.
I love y'all,
Me