As some of you may remember, I nearly died last week during the Mississippi State / Arkansas game.
Oh, not dead dead. Just sorta kinda dead.
No need for alarm, of course. I bounced back beautifully.
Anyway, since the game against Arkansas was a bit of a heartbreaker, I was apprehensive at best about our game against Ole Miss. The Bulldogs really needed to win if we wanted to stay in the running for the Chick-fil-a bowl in Atlanta, and I've got enough years as a Bulldogs fan under my belt to know that things tend to get tricky for us when there's some sort of pressure attached to a game.
And then there was the fact that the last time we played in Oxford, the Rebels beat us something like 104-2. Or maybe it was 45-0. Regardless, IT WAS SOMEWHAT EMBARRASSING.
I tried not to think about the game too much Saturday morning, and it helped that Sister and I spent a chunk of the day running errands. I had to get fabric for a couple of the little man's school projects, and OH SWEET MERCY I may just lose my mind with the crafts. Put me in just about any situation that involves cutting fabric, and odds are that I eventually will find a small, private corner where I can assume the fetal position and weep at will. Thank goodness that Sister was here to stand in the crafty gap for me. I can't imagine what my pre-game mental state would have been without her help.
Anyway, Sister and I were on our way home from the errands when we decided to make a quick stop at TJ Maxx. I don't have a huge fondness for the TJ Maxx in our neck of the woods because I never seem to find anything there. I mean, I'll occasionally find a deal, but they seem few and far between when you consider that I could walk into the TJ Maxx by Sister's house in Nashville and find six red-hot deals within five minutes of entering the store. Maybe my TJ Maxx just gets picked over more quickly? Or maybe it's part of a different distribution center? Or maybe I'm overthinking the nuances of TJ Maxx shopping and need to get back to the point of this post already?
Yes. That last thing.
Well.
We wandered back to the home stuff, mainly just to kill a little time before we headed back to my house before the State game. And when I turned down the third or fourth aisle, this little fella caught my eye:
Our mascot? Walking upright in a sea of red? At a TJ Maxx in Birmingham, Alabama that never has one bit of Mississippi State stuff since it is always FILLED TO THE BRIM with Alabama and Auburn merchandise?
YOU CAN'T TELL ME THAT IT WASN'T A SIGN.
In all seriousness, though, Sister and I did our best not to assign more meaning to that little Bulldog than what he deserved, and once the surprise of the initial Bulldog sighting wore off, I really didn't think much more of it. After we looked around about 15 more minutes, we figured we probably should wrap up our Maxx-ing, so we started making our way to the front of the store.
But then this stopped me dead in my tracks.
YES MA'AM.
As you might imagine, I gasped.
It was, as best I could tell, the only one in the store. And while I was standing there trying to figure out what it might mean, WHAT COULD IT ALL MEAN, Sister tapped my shoulder and pointed at something across the aisle.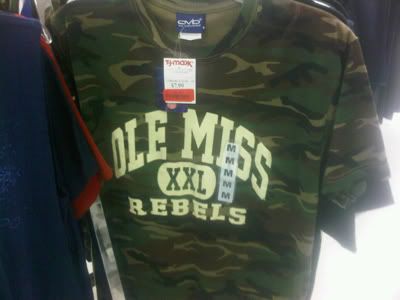 Clearly the Lord had decided to speak to us through t-shirts. I mean, it was like an Egg Bowl showdown right there in the middle of the casual knitwear.
We stood there for a few seconds, looking from the State shirt to the Ole Miss shirt to the State shirt to the Ole Miss shirt (I guess we thought that at some point the shirts were going to have words? Or a football from sporting goods was going to jump in the mix and the two shirts could battle it out in the parking lot?), and eventually my eye settled on a red tag on the Ole Miss shirt. About that time Sister said, "LOOK!" while she held up the very same tag.
The Ole Miss shirt was on sale. The State shirt wasn't. WHAT COULD IT ALL MEAN?
And that's not all. Because if you look even more closely at the tag, you can see two telltale words:
"PAST SEASON."
Let that settle in for a few seconds, my friends.
"PAST SEASON."
What happened this past season? Well, the Bulldogs beat the Rebels 41-27 in the Egg Bowl. THAT'S what happened this past season.
Let me guess: cold chills just ran down your spine.
I mean, HAVE YOU EVER?
Sister and I laughed about the whole thing while we stood in the checkout line, but we were definitely still nervous about the game. Once we got back to my house and cooked supper, everybody settled in for the Egg Bowl (Sister and I may or may not have watched from separate rooms, but I'll save that tale of our collective crazy for another day). We cheered and hollered and clapped for three hours, and do you know what happened?
The Bulldogs won. 31-23.
The Egg Bowl trophy stays in Starkville.
photo by Keith Warren
AND THE TJ MAXX KNEW IT ALL ALONG.
Go 'Dogs.