Tonight we celebrated Christmas with D's side of the family. We decided a couple of weeks ago that we'd get together at Scott and Rose's house (D's brother and sister-in-law), and can I just say? It was DELIGHTFUL. I was happy as soon as we walked in the door because I couldn't wait to cook and visit with Rose, and then Scott came in from work and caught us up on all the latest (local) news and made us laugh and played ninja high-five with Alex. Martha was there, of course, as was Rose's mama Julia Claire and my aunt C, so between all the grown-ups and a couple of very sweet young'uns, the mood got festive pretty fast.
Rose decided to make a dish called Seafood Spectacular, and I was completely supportive of that plan since my affections for turkey and dressing and the like are long gone by the time Christmas rolls around. I actually snapped a picture of Rose's recipe so that I'd have a copy forever and for always.
It would be so nice if it weren't, you know, blurry. But would you just look at the beauty of the sauteed vegetables? I thought they were so pretty.
BECAUSE I'M 105.
And then we added cream cheese and butter and shrimp and crab meat and OH, YES MA'AM, HERE COMES TASTY.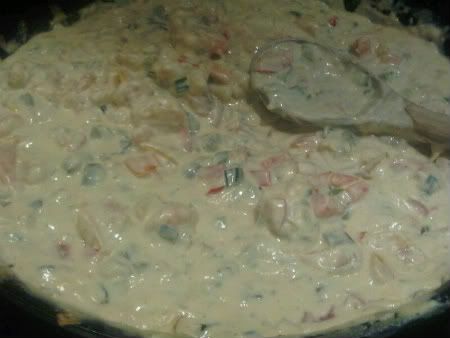 Mix it with a couple of boxes of wild rice, bake until gold 'n bubbly, and you've got a suppertime hit on your hands, my friends.
Before we ate supper we opened presents, and in a development that was shocking to absolutely no one, Martha LOVED her new jacket from Steinmarts. I took a picture with my real camera, but I can't find the cord right this second, so for the time being you'll just have to imagine her holding up the jacket and posing while she said, "It is PERFECTLY DARLIN'," and then:
"Now when you blog about this, you tell the girls that I said it is DARRRRRRRRLIN'."
All I could think was that Martha had just used the word "blog" as a verb. Next thing you'll know she'll be playing Farmville on Facebook and reserving the username "martiedarlinplus" on Gmail.
After presents we sat down for our delicious meal, and it was a good time all the way around. Alex bartered for the last roll, Martha told us about a family from a neighboring town who'd come by to sing Christmas carols for her, our niece Melissa very thoughtfully served coffee to the grown-ups, and I thought over and over again that it's been thirteen years – THIRTEEN YEARS – since D and I spent our first married Christmas with his family. I'm a wee bit more comfortable now (even though I've known his family forever, it can still be tricky trying to find your way when you're the newest family member), and tonight was just a fun, easy, laid-back time – a great way to kick off our Christmas festivities.
Tomorrow morning will be round two with our friends Todd and Marti and their little girl Gracie, and then tomorrow afternoon I'll start the grocery shopping for round three. Fingers crossed that a certain seven year-old can reign in his enthusiasm over the next 48 hours – right now I'm a little afeared that he's going to punch holes in the floors with All The Jumping. He just CANNOT WAIT for Christmas morning.
And neither can his mama and daddy.
Merry Christmas, y'all.