Every once in awhile I'll get an email from someone who mentions that they wish they could get along with their extended family as well as I get along with mine. And inevitably when I read those emails I throw my head back and CACKLE because OH MY WORD, NO. I mean, by and large we behave and love each other and enjoy some good times, but don't think for one second we don't have our issues. Because people, we have some issues. Like everybody else we get through them as best we can, but I don't blog about a lot of that stuff because so far I haven't really gotten any requests from family members asking if I would please discuss all of our junk WITH THE INTERNET. Plus, I want to remember the fun times and the happy times and the times when we laughed until we hurt.
In other words, I don't necessarily need a blog post that chronicles the time that David and I went to a Chinese buffet with my parents, and after D went back for seconds my mama surveyed his plate and said – without a hint of irony – "OH MY WORD LOOK AT ALL THAT FOOD YOU'RE GOING TO DIE."
My husband, he was somewhat aggravated by the buffet-related judgment. As you might imagine.
But we worked through it, just like all families work through countless other tense and/or awkward and/or hurtful moments with the people who are nearest and dearest. There's no question that there's a whole lot of refining that takes place in families, especially around the holidays. Just because I don't write about it doesn't mean we're unfamiliar with that sort of stuff. We just try our best to deal with it and move on without recording it on the internet for posterity's (and Google's) sake.
So, all that being said, I'll now say this: we really and truly had a blast with D's family last night. It was blissfully drama-free, completely relaxed – and it's a night that'll make me smile for a really long time.
(The jacket! It's just DARRRRRRRRRLIN'!)
This morning we had a last minute change-o-plans when our friend Todd called to say that their little girl was running a fever (bless her), so we postponed that trip and decided to run by and say goodbye to my aunt C before we headed home. We'd been at her house about fifteen minutes when my cousin Paige and her little boy stopped by, and my aunt asked if she could take all of us to lunch. Since we were feeling all devil-may-care-ish in terms of our schedule, we said yes and enjoyed a great lunch where I felt like I saw approximately half of the people I have ever known. And really, it was only about ten people, but when you live in a bigger city, you forget what it's like to be in a small town where you know people EVERY SINGLE PLACE you go – I don't typically run into my childhood pediatrician and his sweet wife at the salad bar, after all.
After lunch we made a trip with Martha, Rose and our niece to the nursing home to see Sissie. At first she seemed to be having trouble hearing us, and Martha was insistent that a little hearing aid device that was stored in Sissie's dresser might help. But then she realized that the battery in the hearing aid thing-y was dead, so she took matters into her own hands by putting her face approximately a quarter inch away from Sissie's ear and saying, "Mother? Can you hear? Can you hear, Mother? Sugar, can you hear? Can you hear us, darlin'?" And after about the eighth time that Martha asked, Sissie whipped her head around and said, "I CAN HEAR, MARTHA! I CAN HEAR!"
I laughed so hard that I had to clap my hands.
We gave Sissie her Christmas present, which was a really cute lime green zip-up jacket and pants. I bought that particular outfit because a couple of months ago Martha was FIT TO BE TIED that the nursing home had lost the top to Sissie's turquoise velour track suit. She talked about that lost turquoise top ALL THE TIME WITHOUT STOPPING EVER, to the point that if you drove to my hometown, got out of the car, walked up to a total stranger and said, "Turquoise velour track suit," the stranger would say, "Didn't Martha tell you? THE NURSING HOME LOST THE TOP." Oh sweet mercy. As a general rule I try to laugh and go with the flow as far as Martha's various and sundry obsessions are concerned, but that turquoise velour track suit nearly exhausted every bit of my patience. In fact, the last time that Martha was at our house and was talking about that turquoise velour track suit for the 74th time, I said, "Martha? I think Sissie is going to be just fine without that turquoise velour top for her track suit. Because do you know what? SHE'S ONE HUNDRED YEARS OLD. A MATCHING TRACK SUIT IS SORT OF THE LEAST OF HER WORRIES AT THIS POINT."
I'm happy to tell you that my attempt at perspective did not one iota of good.
Anyway, Martha was beyond tickled that we got Sissie an ensemble that was similar to the turquoise one (DID YOU KNOW THAT THE NURSING HOME LOST THE TOP?), and nothing would do but for her to describe it to Sissie in great detail: "MOTHER! FEEL THIS FABRIC! AND DO YOU SEE THE SPARKLIES? IT HAS A FEW LITTLE SPARKLIES! AND YOU'RE GOING TO BE THE PRETTIEST PERSON HERE! THE PRETTIEST PERSON! AND YOU NEED MORE COTTON OUTFITS, MOTHER! YOU NEED MORE COTTON!"
Sissie's response?
"Okay."
And I think she may have rolled her eyes.
It made all of us so happy.
One last thing: when Martha got to the nursing home, I told her how cute she looked because, well, she looked really cute. So she did a little pivot turn so I could see her whole outfit (I think it goes without saying that she was wearing a jacket from Steinmart), and she said, "Do you like my new jeans?"
BegyourpardonImusthavemisunderstooddidyousayjeans?
About that time D said, "Are you wearing DENIM?"
And she was! She was wearing denim! For the first time since I have known her, which is basically for my whole entire life, Martha was wearing denim. She bought a pair of Not Your Daughter's Jeans, and they were GREAT-looking. So cute on her. So sassy. And so perfect with her brown corduroy jacket.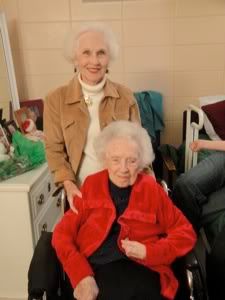 It was big fun for all.
And then we drove home.
And we said, "I CAN HEAR, MARTHA!" approximately seventeen times.
Merry Christmas, everybody!