This is a compensated review from BlogHer and Walgreens.
I don't think it's overstating it to say that we are a family that loves Walgreens.
No. Let me rephrase that. We loooooooove Walgreens.
It's shameful, really. We shop there two or three times a week. We know our cashiers. We know our pharmacy techs. And more than anything else, I know to check out in the cosmetics department when I'm stocking up on shampoo and make-up because they're always well-stocked with coupons.
There's one other thing I happen to know about Walgreens – and I know it from first-hand experience.
Their store brand is fantastic. Seriously. I buy the Walgreens Brand of, well, whatever as much as I possibly can, especially when it comes to any sort of over-the-counter medication. The Walgreens Brand is almost always significantly more affordable than a competing name brand, and I've never been able to tell one iota of difference in quality. If the Walgreens pharmacist recommends it, it's good enough for me – especially since the Walgreens Brand has the same major active ingredient as other national brands.
A couple of weekends ago was perfect case in point. My husband came down with the man cold of all man colds – there was all manner of loud breathing and loud nose blowing and loud sneezing going on in our house. He was so congested, and one Saturday morning he just seemed miserable and tired and maybe even a wee bit cranky. That's understandable, though. All that breathing through the mouth can be exhausting.
Given the husband's condition, I decided that I was going to Take Action. We had plenty of cold medicine already, but I kept thinking that D would be so much more comfortable if we could get a vaporizer cranked up and running. I'm a big believer in using vapors to help a cold; it's what my mama always did for me, and I think it's a great way to get some relief without taking decongestant after decongestant. So I drove to Walgreens, grabbed a cart, and stocked up on some cold remedies. I bought a vaporizer, some liquid vapors for the vaporizer, some cough drops, some ibuprofen for the big man and for our little man (he was feeling a little fever-ish) – and every single item was the Walgreens Brand. I probably saved eight or nine dollars just by buying the store brand.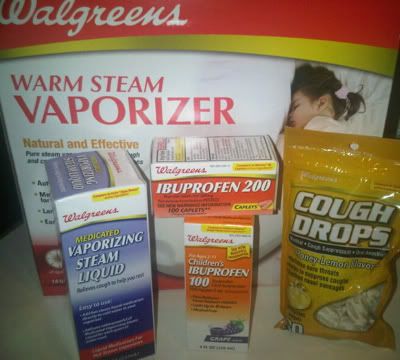 (If this photograph had a title? It would be "Mama Doesn't Mess Around.")
(Because Mama likes it when her people are happy and WELL.)
We weren't at all shocked when everything I bought worked beautifully. We've used the Walgreens ibuprofen and the cough drops for years, but the vaporizer and the vapors were new for us. They're FANTASTIC. I could get used to sleeping with the vaporizer whether anyone is sick or not; it's a soothing presence in the midst of all the dry indoor heat, and the liquid vapors smell divine – they're so, so soothing.
Here's the best news of all (besides the fact that my husband's cold is almost completely gone): I get to give away a $100 Walgreens gift card. I can tell you in all honesty that there are few things in life I would enjoy more than a Walgreens gift card. I mean, JUST IMAGINE THE POSSIBILITIES. Anyway, if you'd like to win a $100 Walgreens gift card courtesy of BlogHer, leave a comment that answers the following question: do you typically buy store brands or national brands? A combination of the two? Whatever's the most affordable? Also, be sure to check out other participating bloggers. This giveaway is open February 18 – March 13.
Happy Walgreens, y'all! And by all means: Try Walgreens Brand Health & Wellness products. Visit the site for more information.
Rules:
– No duplicate comments.
– You may receive (2) total entries by selecting from the following entry methods:
– a) Leave a comment in response to the sweepstakes prompt on this post
– b) Tweet about this promotion and leave the URL to that tweet in a comment on this post
– c) Blog about this promotion and leave the URL to that post in a comment on this post
– d) For those with no Twitter or blog, read the official rules to learn about an alternate form of entry.
– This giveaway is open to US Residents age 18 or older.
– Winners will be selected via random draw, and will be notified by e-mail.
– You have 72 hours to get back to me, otherwise a new winner will be selected.
This giveaway is now closed.