Well, since I'm struggling a little bit today with doing anything that could be considered remotely productive (unless, of course, you consider watching basketball a productive activity), I thought I'd update the blog and bore y'all for a little while.
It is my sweet privilege to serve you in this manner.
So.
Last Saturday our little family of three hopped on a plane and went to California. We flew out of Atlanta because we could get a flight from there waaaaaay cheaper than we could from here, so we left the house at dark o'clock Saturday morning and made the trek to the ATL. A friend of mine had suggested that we park at one of the off-site parking lots and catch a shuttle to the airport, so that is exactly what we did. It was a big time- and money-saver. I'm now an off-site parking believer.
(And yes, this is life at 41. Excitement over off-site parking lots.)
(Next up: FIBER SUPPLEMENTS!)
We've been planning our trip to LA since the first of the year, and we had about fourteen different reasons behind it: 1) D's best friend Todd and his family live there, and we were way overdue for a visit 2) We were also overdue for a just-for-the-fun-of-it family trip 3) My sister-in-law Janie and my nephews were meeting us out there 4) It was Spring Break 5) Spring Break happened to coincide with the little man's 8th birthday 6) We wanted to ride some rollercoasters.
Okay. Maybe we only had six reasons. BUT SIX IS A LOT.
And we had so much fun. Here are a few of my favorite moments.
Our flight to LA had TVs in the backs of the seats. And for six American dollars, you could watch a pretty wide selection of live television programming. I opted for Food Network, and OH, IT DELIGHTED ME. I love "Chopped," and there was some sort of "Chopped All-Stars" thing going on. I DID NOT MIND IT.
We spent most of Sunday sightseeing, and when we stopped at Hollywood & Highland to walk around and take some pictures, I got very excited when I saw the banners for "Jimmy Kimmel Live" across the street. I kept pointing and asking D if he wanted me to take his pictures in front of the banners, and he looked sort of puzzled and grinned and said, "No, that's okay." It was only, oh, YESTERDAY when I realized that D doesn't actually watch Jimmy Kimmel – he watches Jimmy
Fallon
. He
loves
Jimmy Fallon's show, in fact, but it is filmed in New York. Which is a considerable distance from Hollywood & Highland.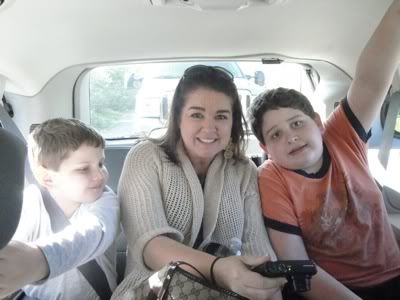 By mid-afternoon Sunday, the boys could not quit giggling / making tooting noises / actually tooting. Janie decided that if we had any chance of returning to the hotel with our sanity intact, she was going to have to physically separate Alex and H. They were
slightly
wound up.
Their wound up state may have had something to do with the fact that they had just spent about fifteen minutes running around in the ice-cold ocean. Oh, they were lively.
The next day we were at Disneyland bright and early, and as you can see, everyone was considerably more calm.
In his defense, it was his 8th birthday, and it was the first time he's been tall enough to ride the Indiana Jones ride, so his happiness was sort of off-the-charts. Plus, the Indy t-shirt was in a stack of clothes that our sweet neighbor recently passed along to us, so, you know, PERFECTION.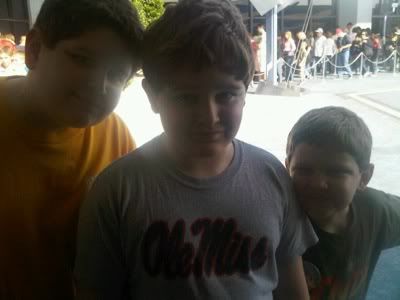 A couple of hours later the boys made their first trek to Space Mountain together, and listen: we
all
hollered like a bunch of hillbillies who had just won a round of "Family Feud." We love us some rollercoasters, and we screamed our heads off. Even after we waited SEVENTY MINUTES to ride Tower of Terror. Such a blast.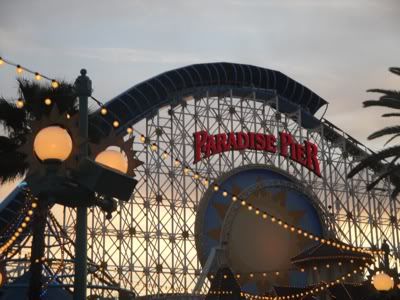 Alex was a little scared about riding California Screamin' – it is super fast and has a big loop and all – but he decided that he wanted to try it, and OH MY MERCY he loved it. In fact, he walked off of it, looked at me and said, "One word: AWESOME" – and jumped right back in line to ride it again. My nephews thought it was awesome, too – they rode it three times in a row.
We had a little birthday dinner at a Disney restaurant Monday night, and we were all so tired that I'm not entirely sure we could tell you what we ate (I do know that ice water has never tasted more delicious than it did when I sat down at the table and KNOCKED 'ER BACK). At the end of the meal our waitress brought Alex a birthday cupcake, and he proceeded to eat all the icing and very little cake. Which was really no different than his first birthday.
Tuesday we went to Universal, and after spending Monday fighting some serious crowds at Disney, our time at Universal felt a little bit like a trip to a spa. We got to the park about fifteen minutes after it opened, and the average time we waited for rides was about five minutes. The first thing we did was take Alex to the souvenir shop to buy a hat (I'd left his cap at the hotel), and y'all, he picked out a WINNER. Cracked me up every single time I looked at him. Especially when he paired his new hat with the 3-D glasses for the studio tour.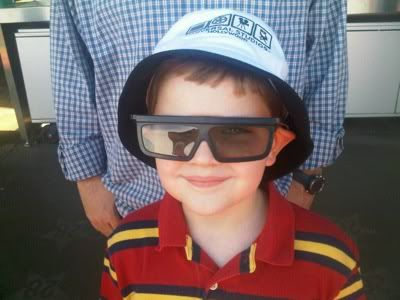 WHAT UP, PAPAW?
The studio tour was so entertaining (way better than it was ten years ago); the kids and the grown-ups had a blast. Afterwards we rode some rides and took some pictures and watched the very cute Shrek in 4-D.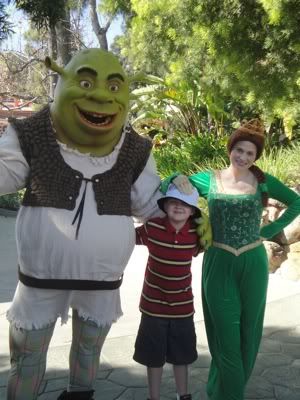 I didn't know if an eight year-old would still be interested in getting pictures made with characters, but as it turned out: YES. He was way more laid-back about it than he was four years ago, but he still got such a kick out of seeing the "real" characters. Big fun.
Late Tuesday afternoon Todd was sweet enough to set up a little behind-the-scenes tour for the boys at the place where he works, and it may have been the boys' favorite part of the trip. Afterwards we went to eat at a place called Paco's Tacos, and I could write an ode to the tortillas there. They were FANTASTIC. Todd's wife and daughter met us for supper, and we all spent most of our meal talking about how cute Gracie is. She is a doll.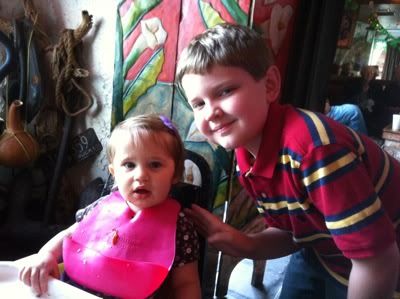 See? I told you.
We had a long day of travel on Wednesday thanks to a couple of runway delays in LA and Atlanta (there was no gate for our plane in Atlanta after we landed). I was about to CRAWL OUT OF MY SKIN after sitting on the runway in LA for over an hour, but then the Delta people made it somewhat better by making all the on-flight movies complimentary. Which is precisely the reason I spent a couple of hours getting re-acquainted with one of my favorite movies of all time.
"That is one NUTTY HOSPITAL."
So good.
And when we finally got back to Birmingham, there was one very sweet puppy dog who was beside herself with happy when she saw us.
So all in all, it was a great trip. We had great fun. We made some great memories.
And it's great to be home.
The end.