A couple of days ago on the Twitter, Melanie mentioned that the new Passion – Here For You CD (from the Passion 2011 conference) is well worth the purchase. I'd been meaning to download it for about a week and just hadn't followed through, so Mel's reminder was timely. I bought the CD, put it on my iPod and figured I'd listen to bits and pieces of it whenever I could.
However, what I didn't take into account is that I would LOVE THE CD INSTANTLY. And that I would listen to it straight through the very first time I played it on my iPod. And then immediately listen to it again. And again.
Oh my goodness, y'all. It's so, so good. And as I was listening to it for the second time, I sent Melanie an email that said something along the lines of PASSION CD!! SO GREAT!! MY WORD!! CAN'T STOP LISTENING!! And then she responded with something along the lines of I KNOW!! TOLD YOU!! SO GOOD!! And then we stood up at our respective computers in our respective states and did hitch kicks as we sang along with the soothing vocal stylings of the lovely Christy Nockels.
Only not really.
Anyway, yesterday Mel and I were talking about how Passion – Here For You is one of those CDs that you want everybody you know to hear, and at some point in the conversation we decided to have ourselves a little giveaway. Because it's fun to share.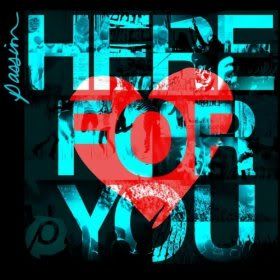 (Did I mention how great it is?)
(I wasn't sure if I made that clear or not.)
So. If you'd like to win one of five free copies of Passion – Here For You (via download), just leave a comment on this post (you can enter here and at Melanie's blog – just FYI). I don't even have a clever prompt, so just tell me some fun detail about your day. Like maybe you ate bacon this morning! Or maybe you get to meet an old friend for coffee! Or maybe you're going to get to take a nap!
(Or if you're not feeling particularly inspired, just type a few letters in the comment box. I'm totally flexible.)
I'll leave comments open until Sunday afternoon-ish, at which point I'll use random.org to draw for five winners. I'll contact the winners by email, so make sure you leave an accurate email address when you comment. Once the winners respond to my email, I'll send them the mp3 version of the CD through Amazon. Because technology is a wonder.
And just to be clear: no one contacted me about mentioning this CD on my blog. No one offered me free copies of the CD. I'm buying the downloads for the winners on my blog. Mel is buying the downloads for the winners on her blog. Nobody in the Passion organization has had any contact with me whatsoever, unless you count the time I saw Louie Giglio at an awards dinner and couldn't think of anything to say to him except for "LAMININ!"
But I'm guessing that he probably doesn't think about that too often. Unless it's on those rare occasions when he has to come up with a definition for the word "awkward."
Good times. Good times indeed.
Love,
Me
This giveaway is now closed – I'll email the winners Monday, March 28th!