This is a sponsored review from BlogHer and Seattle's Best.
One of the very first "grown up chores" I can remember having as a child was being in charge of making coffee for my parents' guests. When I was around 9 or 10, Mama showed me how to fill the coffee pot with the right amount of water, insert the filter, and scoop out the proper amount of coffee. At the time I didn't have any interest in drinking the coffee, but I loved to make it and serve it. Still do, in fact.
When I was in my mid-20s, my coffee-drinking gene finally kicked in. Oh, I'd flirted with coffee-drinking in college, but by the time I hit 24 or 25, I was ready to commit. I bought a small coffee pot, found a spot for it on my kitchen counter, and set about the business of figuring out how I liked my coffee. I grew up in a family where everybody drank their coffee black, but I wanted to explore my coffee-drinking options. I remember thinking that it was a little bit of a rite of passage, the decision to become a coffee drinker. Not that I was overthinking it or anything.
For the next few weeks I tried all sorts of coffee combinations: coffee with one packet of sweetener and whole milk, coffee with low-fat milk, coffee with sugar and a splash of whipping cream. And at some point I realized that I'd found my perfect coffee equation: a slightly oversized mug of coffee with two packets of sweetener and about a tablespoon of half and half. I've held tight to that ratio ever since. It's like an old friend, really – and it makes the two cups of coffee I drink almost every morning of my life feel like time with an old friend.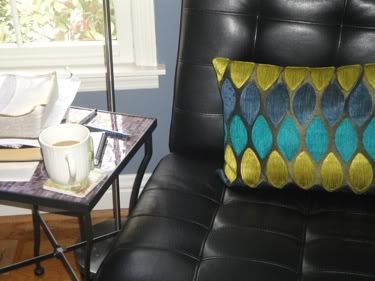 My favorite coffee-drinking spot in the whole wide world
But there's one part of my coffee drinking routine that has changed pretty drastically since I made those first few pots in the kitchen of my little apartment: the strength of my coffee. I used to like a really mild coffee, but then I moved to south Louisiana, where people make their coffee so strong that if it had a mind to do so, it could stand up, stretch its legs, walk out of the kitchen and knock you over the head with a bag of chicory. Coffee doesn't mess around in south Louisiana, and my time there completely transformed what I expect out of the first pot of the day. I want coffee with real, rich, deep flavor -something that's so delicious I have to open my eyes a little wider when I take the first sip. South Louisiana taught me that I like coffee with an attitude – with some swagger – and I've never looked back.
Given all that, I was intrigued when I saw the new level system for Seattle's Best Coffee. Their coffees are ranked from 1-5 according to their flavor and intensity, and when I first noticed the coffee on the shelves at my grocery store, I thought, "THIS IS THE ANSWER TO ALL OF MY FAMILY'S COFFEE DRINKING ISSUES." Ever since I developed a taste for the strong stuff, my mama has very sweetly rejected my offers of coffee – unless I'm willing to make a pot that's much weaker than what I'm accustomed to drinking. And even then she still struggles, mainly because I buy blends that are much more rich and intense than what's she's used to at home.
Now that I've had some time to study the level system a bit more, I know that, at least in the mornings, Mama would be a Level 2. And in the afternoons, when she just needs a slight coffee pick-me-up, she'd be a Level 1. I think she'd rejoice at the mere presence of Level 1 coffee in her life, honestly, because finally, FINALLY somebody understands the needs of a coffee drinker who likes a milder blend. I can't wait to serve her a pot of Level 1 the next time she's here.
And me? Oh, there's no question. I'm a Level 5 girl. Maybe Level 4 if I used less water and more coffee. I like for coffee to taste nutty, chocolate-y – but never, ever bitter. I like a coffee with a strong enough flavor that it doesn't get overtaken or overshadowed by the richness of half and half. I like a coffee that sort of screams "GOOD MORNING" instead of whispering politely.
So what about you? How do you like your coffee? Mild? Strong? Somewhere in between? Or are you still on the fence where coffee is concerned? Haven't really incorporated it into your daily routine – yet? Leave a comment with your answer, and you'll be entered to win a $100 Amazon gift card courtesy of BlogHer.
This giveaway will run from 4/1/11 – 4/17/11. If you'd like more chances to win through other participating blogs, please visit the Exclusive Offers section on BlogHer.com.
No duplicate comments.
You may receive (2) total entries by selecting from the following entry
methods:
a) Leave a comment in response to the sweepstakes prompt on this post
b) Tweet about this promotion and leave the URL to that tweet in a comment
on this post
c) Blog about this promotion and leave the URL to that post in a comment on
this post
d) For those with no Twitter or blog, read the official rules to learn about
an alternate form of entry.
This giveaway is open to US Residents age 18 or older
Winners will be selected via random draw, and will be notified by e-mail.
You have 72 hours to get back to me, otherwise a new winner will be
selected.
The Official Rules are available here.
This giveaway is now closed.