At least once a week Melanie and I have a very enthusiastic discussion about our love for the assymmetrical cardigan and/or jacket and/or tunic. In fact, I don't know if I've ever experienced a weakness for an item of clothing like I've had for Anything Assymmetrical, and that is saying something given my considerable affection for stirrup pants in the early 90s.
In addition to being super-cute, the assymmetrical cardigan / jacket / top is flattering and comfortable, and it's sort of revolutionized the way I dress (if such a thing could be considered revolutionary, which, come to think of it, NO). But because the assymmetrical stuff comes in so many great, lightweight options, I layer a lot more than I used to. And a few weeks after I started adding the assymmetrical cardigan / jacket / top into my wardrobe, I realized that I was getting ready a whole lot quicker in the mornings – because instead of looking at my closet and seeing "outfits," I saw stuff that could be mixed and matched and switched around.
Oh, you laugh. But as somebody who has always been dependent on "the outfit," I've needed to make this shift for awhile. It's totally changed the way I shop – because now I understand that it makes a whole lot more sense for me to have a few things that I can mix and match like crazy than it does to have 40 things that can only be worn one way.
So. Here's what I do. Not that anybody, you know, cares. But it's really early and our power was out last night and I have a cold and TALKING ABOUT CLOTHES MIGHT JUST MAKE ME FEEL BETTER, THANK YOU.
I have a line-up of basics that are always in my closet (and I've had some of the basic pieces for YEARS), and then I build off the basics with the trendier stuff. Since I've been on the aforementioned assymmetrical cardigan / jacket / top kick for the last year or so, it's been my primary trendy (and affordable) indulgence. I tend to stick with a black / white / bright color / gray color scheme because then everything goes together. I usually go with fuschia or teal for the bright color, but feel free to use red or yellow or green or whatever suits your fancy.
And also: I rarely shop unless I can pair a sale with a coupon (which is one of the many reasons I love Steinmart so much). Big department stores are great for the sale / coupon combo. Last year at Belk I got a pair of white jeans that had been $80 for $17, and I still can't quit talking about what a bargain they were, as evidenced by the fact that I'm mentioning those white jeans right now, A WHOLE YEAR AFTER I BOUGHT THEM.
Anyway, my list of basics looks something like this (just buy whatever brand looks best / feels the most comfortable / makes you happy when you wear it – and in my case that almost always means WHATEVER I CAN FIND AT THE STEINMARTS).
1) An assortment of pants-type products:
Black pants (I have a pair of boot-cut and a pair of wide-legged).
Gray pants (I love a cute cargo-style).
Leggings.
Jeans.
(By the way?)
(Where would I be without parentheses?)
(TRAPPED IN A PRISON OF MY OWN SIDENOTES, THAT'S WHERE.)
2) An assortment of shoes:
Black wedges.
Colorful flats (fuschia or teal).
Animal print flats.
Wedge sandals.
Flip-flops.
3) Then add above-the-waist stuff.
And that's pretty much it. Besides my ever-present large hoop earrings, of course. But you feel the freedom to embrace whatever earring speaks to you. I like for my earrings to holler a little, but you may be a fan of a more whisper-y earring. Our differences make the world go 'round.
Anyway, here are a few of my assymmetrical favorites.

Black and gray cotton or knit jacket (this one and this one)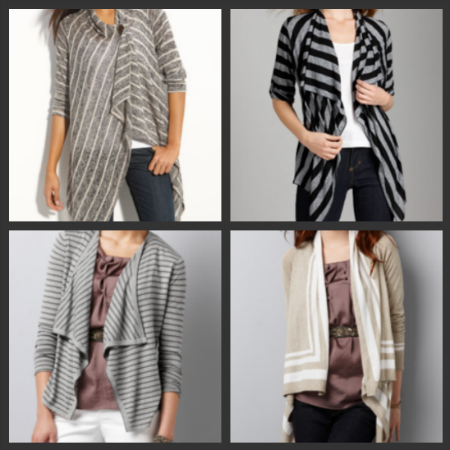 Striped assymmetrical cotton jacket / cardigan (love this one, this one, this one and this one)

Colorful cotton or knit jacket (like this one or this one)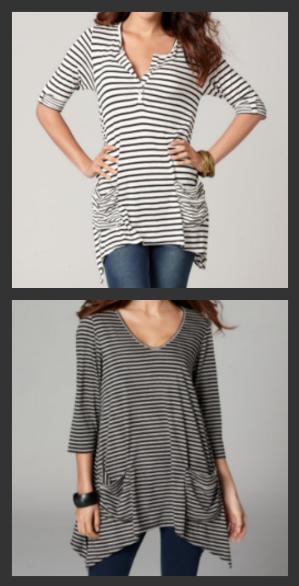 Striped tunic (this one and this one)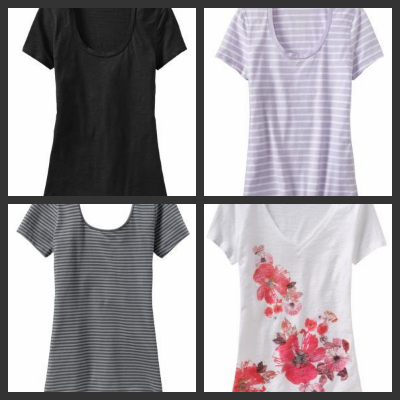 An assortment of Old Navy t-shirts (or whatever your favorite brand happens to be). Don't be afraid of embellished t-shirts, either. And just FYI: I like t-shirts that are at least 25″ from shoulder to hem.
Then mix and match at will.
Jeans, striped tunic, black cardigan, wedge sandals.
Gray cargos, embellished t-shirt, hot pink jacket, flip flops.
Black pants, black t-shirt, striped jacket, fuschia flats.
Black leggings, striped tunic, gray jacket, black flats.
IT'S LIKE MAGIC.
A lot of this stuff is by Cha Cha Vente, one of my favorite brands, and what's even more delightful is that you can buy it at Steinmart. It comes in misses' sizes or women's sizes, it's comfortable as all get out and it launders like a dream. I'm a fan.
So there you have it. My handy-dandy Garanimals for Grown-Ups method. I cannot begin to tell you how it has simplified my life in the mornings. I used to stand in my closet and stare and ponder and wonder what in the world I could wear to church or to work or to a soccer game or to go out to eat with the family. Now I pick out pants or leggings and build from there. It takes less than a minute, and I feel better because I know that I at least look somewhat coordinated and put-together – even if I've had three hours of sleep and am contemplating propping my eyes open with toothpicks.
Like I told Melanie a couple of weeks ago: if I leave my house in the mornings and bear some resemblance to Maude, I know that I've succeeded in meeting my fashion goals for the day.
And if you're wondering what in the world I'm going to do once it's hot outside and I can't bear the sight of an assymmetrical cardigan, I have two words for you: assymmetrical vests!
And also: SHIFT DRESSES.
Have a great day, y'all.