One of the things we enjoy the most about our neighborhood is that there are lots of kids in this neck of the woods. Almost every afternoon there's a pack of young'uns that rotates from our house to our neighbors' house to another neighbors' house – kind of like a progressive play date. Usually you'll hear the kids before you can actually see them, and that suits me just fine. I can typically track their location by standing in our driveway and listening for All The Yelling. They have a blast together.
For the last couple of months D and I have been talking about turning the little room off of our kitchen into a place where the kids can congregate to play games or watch movies or whathaveyou. It would also be a great place to keep the Wii. We have a hard and fast NO WII ALLOWED policy during the week, mind you, mainly because I am of the opinion of GET THEE OUTSIDE, CHILDREN, but on the weekends, we're a little more flexible. A and his buddies will play outside for awhile, then come inside and play the Wii or watch a DVD for a little bit, then head back outside – and etc. and so forth and forever and ever amen.
The only hitch in our repurposing plan has been that the room next to the kitchen needs some extra seating. I could throw some beanbags in there, I know, but the clutter of it all would probably make my left eye blink uncontrollably, and I'd really like to use the room as a den for grown-ups when it's not occupied by kids. I've thought that a loveseat of some sort would be the perfect solution, but loveseats can be pricey. Not to mention that the room isn't big at all, so I can't really use some huge overstuffed something-or-other – I need a sofa that's smaller in scale.
And also inexpensive.
I am such a fan of the inexpensive.
This past weekend my aunt C mentioned that there was an estate sale at a house in my parents' neighborhood, so in a fit of spontaneity we drove over to check it out. I wasn't looking for anything in particular, but since we'd watched an episode of "American Pickers" on the History Channel the night before, I was feeling sort of intrigued by the idea of finding some unexpected treasure. Plus, it was the third day of the sale, so everything was half price. You can imagine my delight.
We'd been in the house about ten minutes when I walked in a little sunroom off of the living room. And this is what I saw.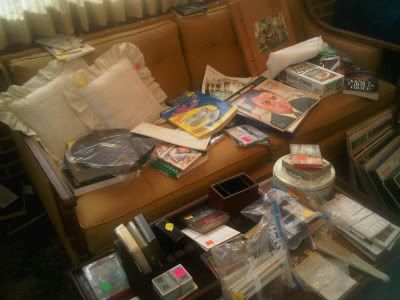 I know. I KNOW. It SCREAMS 1968, doesn't it? But I was intrigued. I didn't know what style it was. I didn't know what brand it was. I didn't know what in the sam hill you'd call that color, either. But I loved the scale of it, and I liked the overall look of the lines. Now granted, I knew that the sofa was probably older than I am, but it was in excellent condition – sturdy as could be. Nary a hint of spilled coffee or Coke or sweet tea anywhere on or underneath the cushions. So I asked my aunt to take a look at it.
C immediately saw the potential. She inspected the upholstery and said that if I was okay with the color (which I totally am – I like a hint of funky in every room, you know – and there are actually flecks of a kicky green mixed in with all the muted gold), I could initially get away with just cleaning the sofa (it was a smidge dusty) and adding some fun throw pillows. Maybe recover the bottom cushions just for kicks. But all in all, she determined that it was in fact a very fun find.
Her approval really got me thinking. And then – AND THEN – I remembered that everything was half price.
Which meant that I could buy the sofa for AN INCREDIBLY AFFORDABLE AMOUNT OF AMERICAN DOLLARS.
So I believe the word you're looking for is SOLD.
As a couple of nice men were loading the sofa into my cousin Paige's ginormous vehicle, Paige noticed that there was a tag for Karl's Furniture underneath the cushions. Karl's was my aunt's favorite furniture store in the 60s and 70s – it was a local business, and I can remember being a little girl and hearing Mama say that everything in Karl's was "modern" and "contempo" (that's Mama-slang for "contemporary"). It made me so happy that I'd run across something from Karl's some twenty-five years after it closed. It's like a little piece of our hometown has joined our family.
We took the sofa back to Mama and Daddy's – with our fingers crossed that we'd be able to make it fit into D's SUV – and for a few minutes I thought it was going to have to hang out on the driveway indefinitely because NOPE, NOT GONNA FIT.
(We had not taken the time to properly place the cushions.)
(I do hope you can forgive us.)
But then Paige and D worked their magic, and LOOKY HERE.
Snug as a bug in a rug.
Or as a sofa in a Chevy, as it were.
The sofa is now resting comfortably in our garage. Just as soon as I get it cleaned up, it'll be moving into the room off of our kitchen. I bet that our neighborhood crew will make sure that the sofa gets a very loud, very enthusiastic welcome.
Welcome home, sofa-of-undetermined-style-and-era.
We're just as tickled as we can be to have you here.