– Last night at church I ran into my friend Jan. We don't see each other nearly enough, and it was so fun to catch up with her. She opened a bakery here in Birmingham a few years ago, and it's pretty much taken off like wildfire. Jan's an incredibly talented baker and food stylist with a personality that's infectious, energetic and oh-so-hilarious. She's the best.
She is also, as of last month, a cookbook author. Her cookbook, Big Book of Cupcakes, was recently published by Oxmoor House.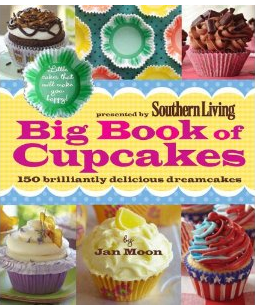 It's chock full of baking goodness; there are 150 (ONE HUNDRED FIFTY) cupcake recipes. If you like to bake, you will love Jan's recipes and creativity. This book is a great resource for birthday parties – and it's also a great way to encourage kids to learn how to bake (with adult supervision, of course). And just FYI: Jan didn't ask me to mention her cookbook. Nobody sent me a free copy or anything like that. But I wanted to tell y'all about it because 1) I love my friend 2) I love her recipes 3) I think y'all will love the recipes, too 4) I crave her caramel sea salt mocha cupcakes on a weekly – if not daily – basis and 5) PEOPLE LOVE THEM SOME CUPCAKES.
– You can still enter to win a $100 Shutterfly.com gift card from the Sprite Tabs for Humanity giveaway. Just click on over.
– The latest group of Compassion Bloggers is heading to the Philippines next week. If you'd like to show your support for the trip and help get the word out to your friends, grab a badge for your blog, Facebook or Twitter.
– I've mentioned a time or ten that I pretty much adore the clothes from Nations Outfitters. It's a brand that's about so much more than fashion. And now? They have gift cards. Such a great graduation gift, you know?
– If you watched the most recent season of Survivor, chances are that you'll get a kick out of this post-finale interview with Boston Rob. Very entertaining.
– And in related news: this interview with Phillip "Stealth" Sheppard? It does not disappoint.